CAMPER AU Mother's Day – 10% Off On A Selected Catalogue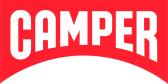 Dear Publishers,
For Mother's Day Camper is offering a code: CAMPERMAY10. 10% off on selected Women's Camper models from a wide range of footwear (from formal to casual shoes, sneakers or sandals) from the Camper Spring/Summer 2018 Collection.
Hurry up! This offer will only last from May 9 to May 13!
Happy promoting!
The Camper Affiliate Team
Tags: 10% discount, camper shoes, codediscount, discount codes, mother's day coupon, mothers day, mothers day gifts