Bulk Buy Facial Skincare Products at Chemist Direct
---
Bulk Buy Facial Skincare Products at Chemist Direct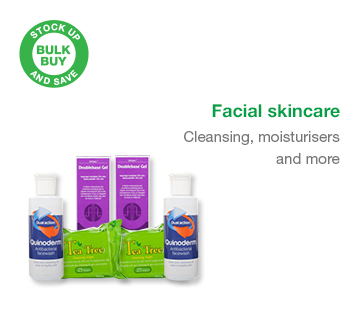 Bulk Buy Facial Skincare Products at Chemist Direct.
From skin moisturisers to face cleaners, and from toners to BB creams, get attractive discounts when you buy in bulk.
Click here to find out more.
Acnecide 5% Gel – Effective treatment for acne on the face. Reduces spot-causing bacteria by 95%. Contains benzoyl peroxide.
Our Price £28.49

Chapstick Original provides everyday lip protection to soften and moisturise your lips with the additional benefit of sunscren to protect them against the suns harmful UV rays. It contains Vitamin E, Camphor, and Carrnauba Wax. 6 Pack
Our Price £5.59

Acnecide 5% Gel is a medicinal cream which treats acne and spots while helping prevent future flare-ups. The active ingredient, benzoyl peroxide, works by killing almost all the bacteria responsible for causing your spots.
Our Price £55.80

Diprobase Ointment Triple Pack is an emollient, moisturising ointment to soothe and hydrate dry skin. This ointment is suitable for moderate to severe eczema and can be used during flare-ups.
Our Price £29.95

Oilatum Soap Bar 6 Pack is a multipack of six moisture enhancing soaps from Oilatum. These soaps gently cleanse the skin, without stripping it of natural oils and sebum. It is suitable for dry skin, or those with eczema or dermatitis.
Our Price £37.05

Bio Oil 200ml is a specialist skincare oil for your face and body to help improve the appearance of scars, stretch marks and uneven skin tone.
Our Price £68.94

Bio Oil 200ml Twin Pack is a specialist skincare oil for the face and body that helps to improve the appearance of scars, stretch marks, and uneven skin tone. This pack contains two products of 200ml each.
Our Price £45.96

Palmer's Cocoa Butter Formula is a rich-lathering soap specially formulated to cleanse, without leaving a dry, tight feeling. Enriched with Vitamin E. Contains 6 bars of Palmer's Bar Soap.
Our Price £13.05

Sudden Change Undereye Firming Serum - Finally, a product that solves those unsightly wrinkles and bags that can form under your eyes. Multipack x 3
Our Price £39.25

PharmaClinix Lightenex Bright Skin Lightening Cream is a combination of skin lightening agents & vitamins, which is scientifically designed to prevent & clear hyperpigmentation. Lightenex Bright cream offers the best value, without losing the potent efficacy of the skin lightening formula!
Our Price £18.80