---
Oral-B Pro Expert Sensitive & Gentle Whitening Toothpaste offers outstanding protection for those with sensitive teeth.
Was £3.49
Now £2.00
Save £1.49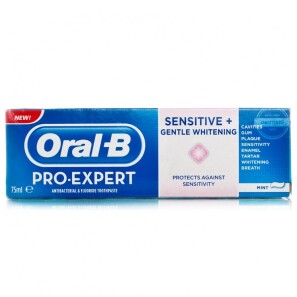 Oral-B Waxed Dental Floss Mint has a specially bonded filament makes it easy for you to insert and polymer-coated for effortless plaque removal. Whether you have a special oral care routine, or have never flossed before, you'll find an Oral-B floss to suit your needs. With a range of unique flossing technologies, from the power-flossing Oral-B Hummingbird to the intelligent flexibility of Ultra Floss, Oral-B floss products can help you clean the areas that toothbrushes can't reach and keep your mouth feeling fresh and clean.
Was £1.99
Now £1.00
Save £0.99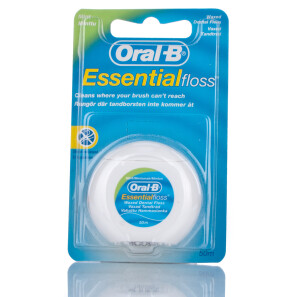 Expert toothbrush with anti-plaque capabilities. The flexing CrissCross bristles are angled in opposite directions, lifting and sweeping away plaque as you move it around in your mouth. It's clinically proven to remove more plaque than a regular manual toothbrush and removes up to 90% of hard-to-reach plaque based on a single use clinical study.
Was £3.99
Now £2.00
Save £1.99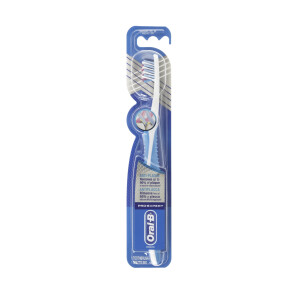 Oral-B Super Floss is ideal for cleaning braces, bridges, and wide gaps between teeth. It is designed with three unique components - a stiffened-end dental floss threader, spongy floss, and regular floss - all of which work together for maximum cleaning benefits. This pack contains 50 pre-cut strands.
Was £3.19
Now £1.60
Save £1.59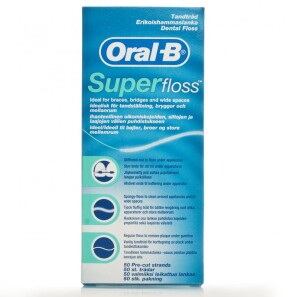 Oral-B Satintape instantly feels different as it releases a burst of mint freshness on contact that lets you know it is working. Its unique wide satin-like ribbon is comfortable to handle. Daily flossing with Satintape helps you do more to keep your teeth and gums healthy. Oral-B Satintape is perfect for new flossers or those who prefer wider floss. It comes in a single strand floss, composed of a nylon core and polymer outer layer is exceptionally shred and breakage resistant.
Was £2.49
Now £1.25
Save £1.24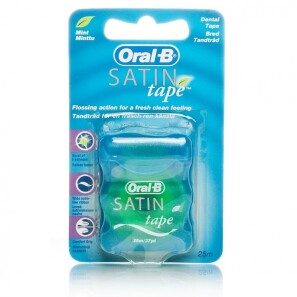 Oral B Power Tip is designed for cleaning between teeth and around crowns, bridges and implants

Our Price £4.99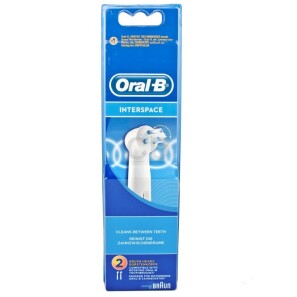 Dentists recommend replacing your toothbrush head about every 3-4 months, or when bristles are faded and worn Compatible with the entire lineup of Oral-B rechargeable electric toothbrush handles, except for Oral-B Sonic toothbrushes
Was £15.99
Now £10.63
Save £5.36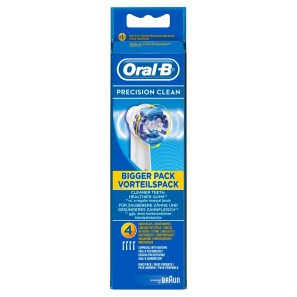 Oral B Gum And Enamel Repair Original toothpaste for sensitive teeth helps rejuvenate gums and repair enamel in just 2 weeks. Its unique ActivRepair technology simultaneously helps rejuvenate gums with its antibacterial action, helps repair enamel and defends teeth against acid erosion.
Was £3.99
Now £2.65
Save £1.34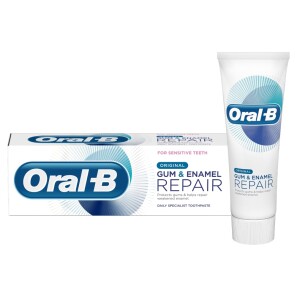 Oral B Pro Expert Prem Floss Cool Mint slides easily between your teeth to help prevent gum problems, leaving a minty cool feeling in your mouth. Oral-B, the #1 brand used by dentists worldwide.
Was £3.49
Now £1.75
Save £1.74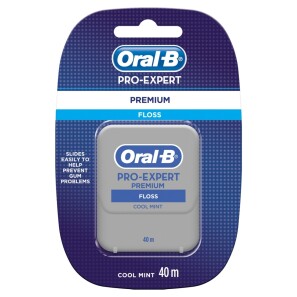 Oral-B IndicatorToothbrush 35 is designed for every-day cleansing for your teeth and tongue. It removes and prevents plaque buildup, helping get rid of any food debris and keeping your breath delightfully fresh and clean.

Our Price £1.49