Big Summer Holidays… Small Rates – at The Shaftesbury Premier London Piccadilly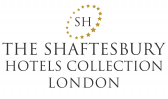 Discover London's most vibrant area this summer with a memorable stay at the Shaftesbury Premier London Piccadilly while enjoying our Advance Purchase offer. This charming & contemporary boutique-styled property is located at the centre of London's West End. It is also minutes away from Oxford Street and next to the buzzing and iconic Leicester Square.
Book your stay 10 days in advance and benefit from our special early bird rates. Don't miss out!