---
It's A Big Frame Clearance at Mattressman

You can save up to £160 on a brand new bed frame in our Big Bed Clearance Sale.
With modern metal bed frames, traditional wooden ones and classy faux leather choices, we're sure you'll find one you love.
Every bed frame at Mattressman is designed to give you an incredible Good Night Sleep whilst looking stylish in the bedroom at the same time.
Visit here for more bed frame deals along with Free Next Working Day Delivery!*
The Northern metal bedstead from Snuggle Beds is a beautiful white bed frame.
Was £145.00
Now £99.00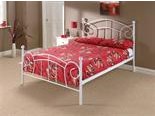 The Monza Black is a luxurious modern bed frame with an interesting look.
Was £199.00
Now £99.00

Beautifully designed, the Luca Brown is an elegant bed frame that boasts style and quality.
Was £155.00
Now £119.00

Made by Snuggle Beds, one of the UK's leading bedroom furniture companies, the Luca is a fabulous bed frame that's ideal for both modern and traditional homes.
Was £155.00
Now £119.00

This contemporary bedstead embraces the philosophy of clean, simple design, and will complement your bedroom without distracting from the decor.
Was £149.00
Now £119.00

A simply designed Scandinavian pine bed with a base of supportive solid slats.
Was £159.00
Now £129.00

Snuggle's Remy is a fantastic option that offers sleek minimalist style at a more than reasonable price.
Was £159.00
Now £129.00

From Limelight comes the Mira; a black faux leather bed frame with oak effect legs on both the head and foot end.
Our Price £149.00
The Nimbus is a top-quality bed frame by Limelight. The bedstead's ivory finish is very versatile, however, its classic design may be better suited to more traditional décors.
Was £179.00
Now £159.00

The Cygnus is a beautiful bed frame complete with crystal finials. Designed by Limelight, the bed is made of sturdy brass and embellished with stunning crystal details.
Was £319.00
Now £269.00