---
Bestselling Flowers From Serenata Flowers
Are you always looking out for the best bargain? With some of the best flowers offers, discounts and fabulous floral arrangements, we have everything you need to satisfy your desire for a great deal! With FREE delivery on flowers all week including weekends, we can deliver you a great product at great discount prices all across the UK. Save up to 33% in our Bestsellers range!
Bring all the fun of the fair into any home with this glorious bouquet filled with wonderful autumn colours capturing the essence of the season!
Was £24.99
Now £19.99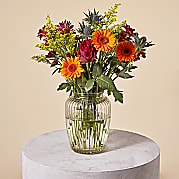 The relaxing serenity of pure white blooms create a glorious sense of peace. The delicate fragrances of Freesia, luxury Roses, Lisianthus, Oriental Lily and Waxflower create an ambience that even the UN would be proud of.
Was £39.99
Now £34.99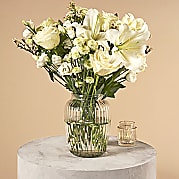 Delicate pastel roses and elegant summer charm make this bouquet simply beautiful.
Was £34.99
Now £29.99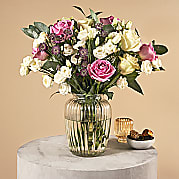 Take a moonlight stroll down twilit lanes while silvery starlight dances on lavender Freesia and the petals of white roses. Please note that this bouquet will need arranging upon arrival.
Was £24.99
Now £19.99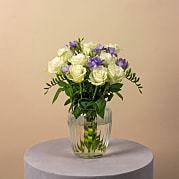 Say those three words she's been waiting to hear: Dozen. Red. Roses. The classic romantic gesture will make your intentions clear.
Was £29.99
Now £24.99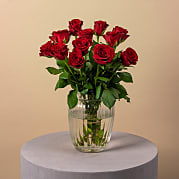 Is there a recipe for the perfect smile? We think our researchers have come pretty close: take a handful of precious pink gerbera daisies, stir in a dash of alstromeria blooms, add a sprinkling of daisy and finish with a swirl of roses.
Was £34.99
Now £29.99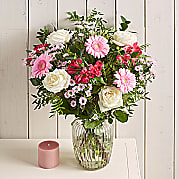 Stunning bouquet with contemporary pink zantedeschia blooms, classic white roses and exotic foliage.
Was £29.99
Now £24.99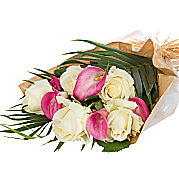 Innocent white blooms represent a love so pure that it burns like white fire in the soul.
Was £39.99
Now £34.99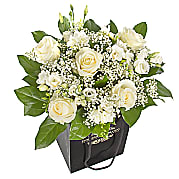 Classic vintage colours combine in this spectacular bouquet, with wonderfully scented Freesias, cheerful Germini, the classic beauty of Roses and Leucadendron foliage. Simply stunning.
Was £34.99
Now £29.99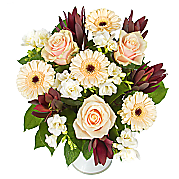 Raise the temperature of your romance with a jungle fever of ivory Avalanche roses and stems of ebony Safari Sunset swathed in forest-green foliage.
Was £39.99
Now £34.99