---
Beer & Whisky Hampers From Hampergifts.co.uk
Treat your dad for Father's Day with Beer and Whisky Hampers from Hampergifts.co.uk this week. Original and striking gifts for beer and whisky lovers everywhere. From award winning whiskys to premium beer, along with a huge range of gourmet snacks and incredible treats, find the perfect gift for your dad for Father's Day.
See our selection below, or take a look here for Beer Hampers or here for Whisky Hampers.
Don't forget to use voucher code JUN5HAMP for 5% off your order until 30th June 2016.
The lucky recipient of this delightful beer gift won't wait long to crack open the pair of premium Continental lagers. But the delicious goodies are sure to grab their attention too! Cut a slice from the extra large fruit cake, enjoy the parmesan oatcakes with some spiced tomato chutney and nibble on the Belgian chocolate mint sticks.

Our Price £29.00 inc VAT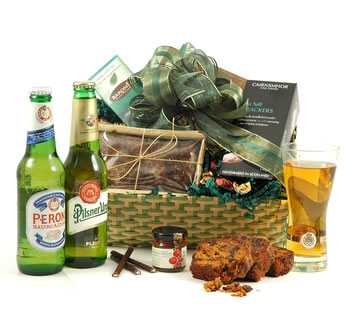 This hamper offers an original alternative to wine, just perfect if you know someone who'd appreciate a premium beer gift. It includes some of the best lagers from Italy, Spain and the Czech Republic - plus cake, snacks and treats which have been carefully chosen to go well with the drinks. This beer hamper comes in a lovely understated black box, which can be reused over and over again.
Our Price £37.00 inc VAT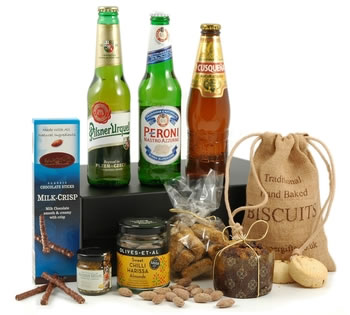 A gift for someone who enjoys beers from closer to home (or someone abroad who misses them?), this impressive beer hamper contains three large bottles of the best English ale, plus chocolates, nuts, olives, oatcakes and other snacks which can be enjoyed with the traditional ales. This luxury beer gift offers some of best ales England has to offer, presented in a handmade basket and gift wrapped with a luxury ribbon.
Our Price £44.95 inc VAT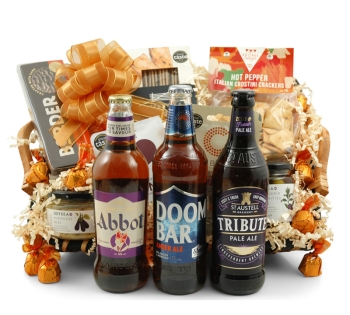 If you want to send beer in style, look no further than our gorgeous beer crate. The four hearty English Ales and four premium continental lagers will go down a treat. And the beautifuly made, large burnt finish wooden crate can be kept for storage afterwards. Packed with rustic shredded paper this attractive and yet simple gift is sure to delight any beer lover you know.

Our Price £55.00 inc VAT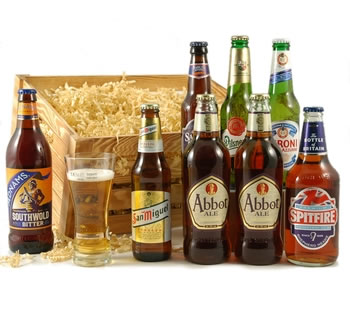 A lovely whisky hamper containing a half bottle of Bells Scotch Whisky and a delightfully indulgent selection of goodies - including Crumbly Fudge, Dark Orange Chocolates and a delicious Rich Fruit Cake. All arriving in a gift-wrapped basket with an adorable free baby teddy bear.
Our Price £39.50 inc VAT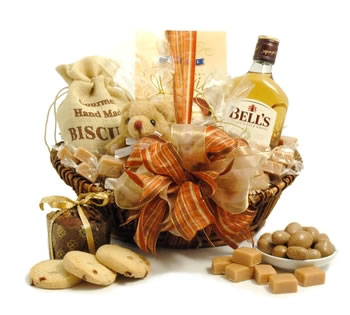 An impressive Whiskey Hamper overflowing with a winning combination of sweet and savoury snacks. The delicious contents include tomato & sesame savoury biscuits, spiced nuts, chocolate truffles, crackers, luxury shortbread and much more. Beautifully presented in a seagrass basket and gift wrapped with ribbon.

Our Price £47.50 inc VAT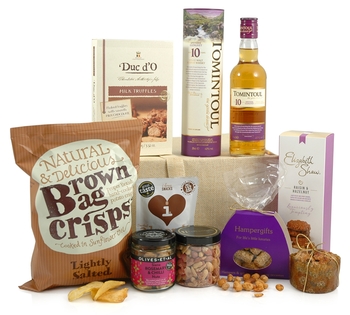 This is one for whisky lovers. Its centrepiece is a bottle of Te Bheag Connoisseurs' Blended Scotch Whisky - a double Gold Medal winning, a highly-drinkable, full-bodied Scotch whisky. To complement this flavoursome whisky, we've included a rich, moist, family-sized fruit cake, cherry liqueurs, chocolate cappuccino sticks and spiced almonds.

Our Price £65.00 inc VAT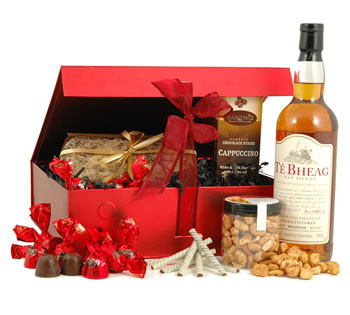 A classic single malt with the huge peat-smoke characteristics of southern Islay whisky. It also hits wonderfully sweet notes of honey, spice and vanilla on the palate. A massively rich dram, this 16 year old has won numerous awards - most recently runner-up in the Best Single Malt Whisky category at the International Whisky Competition 2015.

Our Price £80.00 inc VAT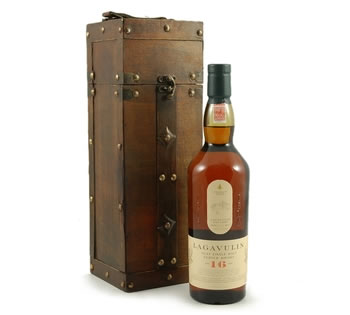 A superb 14 year old limited edition Balvenie, matured in traditional oak casks and then finished in casks previously holding Caribbean Rum. Expect notes of fruit, vanilla and toffee as the rum contributes extra sweetness to this classic single malt. We've presented this beautiful Scotch in an equally classy wooden box with faux-leather handle.

Our Price £84.00 inc VAT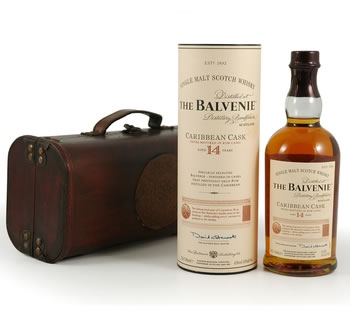 This wonderful hamper features five light flavoured Guantanamera Cristales Cuban Cigars plus a bottle of Glenlivet 12 year old - one of the most famous single malts in the world. You'll also discover an abundance of other luxuries including a rich ground Brazilian coffee, honey & whisky mustard, award-winning spiced nuts and Belgian pralines.

Our Price £140.00 inc VAT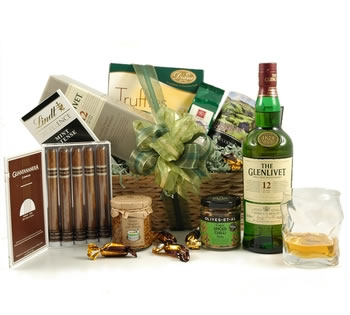 A magnificent gift combining decadence and indulgence, this is one of our best selling luxury hampers. The trio of drinks are all excellent award-winning treats. They include a ripe, elegant Champagne; a soft, juicy Spanish Red; and a double gold medal blended Scotch Whisky. The deep basket is absolutely filled to the brim with fine foods and features no less than 5 gold medal winners.

Our Price £150.00 inc VAT