Bed and Bath Emporium AWIN Launch Offer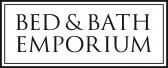 AWIN LAUNCH OFFER
To celebrate our launch on AWIN from the 11th April until the 30th April we have a launch offer of 15% off all orders voucher (AWL1) and 10% commission for publishers (sales inc VAT).
The Bed and Bath Emporium was founded on the principle that surrounding yourself with luxurious bed and bath products should be something that is within everyone's reach.
Whether you are after a better nights sleep or a luxurious post-bath dry down our aim has been to curate a range of products that provide our customers with the very best experience for that price range. With a 4.9 out of 5 rating on Feefo we know that our customers think we achieve this aim.
Tags: launch incentive, launch offer