BBQ's At The Gas Superstore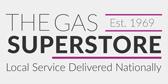 The Gas Superstore Affiliate Newsletter


BBQ's At The Gas Superstore

As the sun comes out, it is only right you make the best of the warm weather and enjoy a few BBQ's with friends and family. At The Gas Superstore you will find a whole host of fantastic BBQ's and Accessories from all the biggest and best brands in the market. Below we have picked out some great examples from the BBQ's range, and you can find the full collection of products by clicking here. There are a whole host of money saving opportunities to utilise when shopping from The Gas Superstore, and you can find those by clicking here.