---
Bath & Beauty Hampers At HamperGifts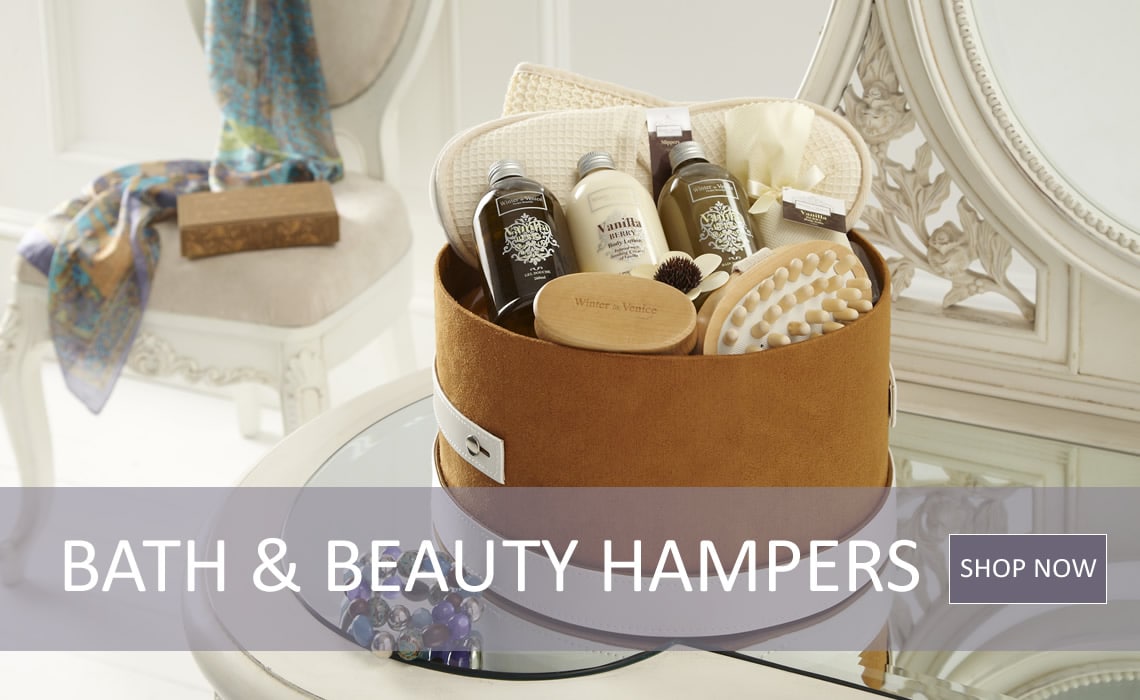 Our pamper hampers are the perfect way to unwind after a long hard day. No matter what scents you or your loved ones enjoy, you're sure to find something soothing here. Shop the full collection here and put a smile on anyone's face. 
A true pamper hamper filled with everything you need to indulge. The rich blend of plum and cream makes this an absolute treat.This generous collection of lotions and potions, accompanied by an array of bathing accessories and a superb wooden bowl puts this gift on the very top of any gift list.
Our Price £47.99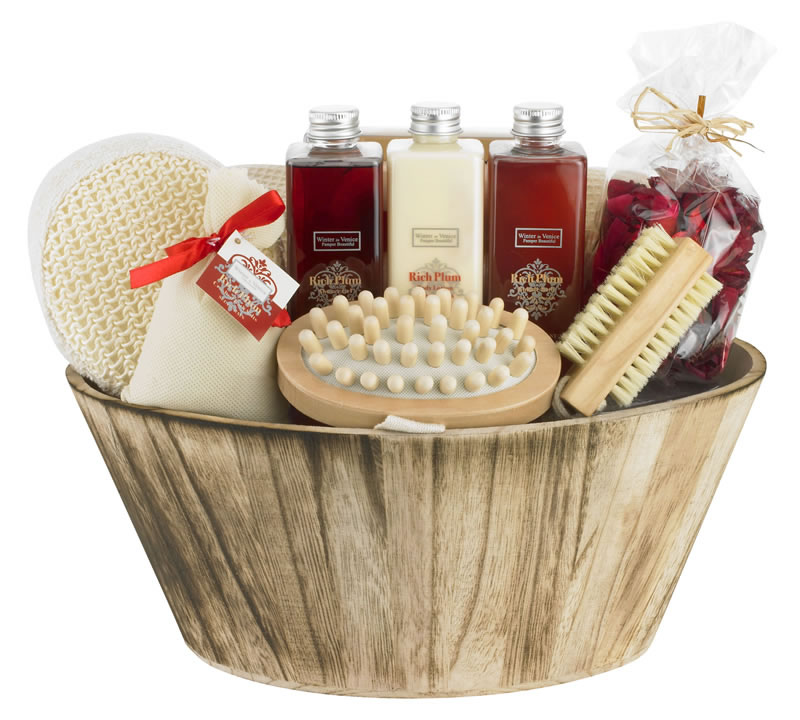 Relax, run a hot bath and let our luxurious Bath themed tower do the rest. This exclusive treat is jam packed with a fantastic selection of scented bath products for the ultimate pampering session. Light the scented candle and let the perfumed soap, massage bar, fragrant bath blaster, bath brulee and aromatic bath buttercup work their magic.
Our Price £39.99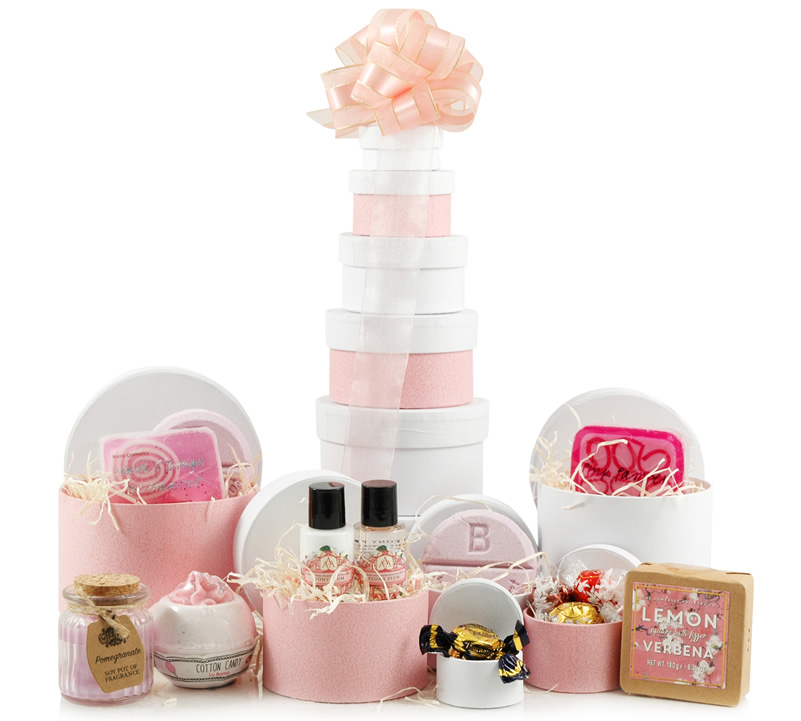 From Winter in Venice - the award winning British brand of luxury toiletry gifts - comes this reusable pink melamine mixing bowl packed with an array of toiletries. Take a long relaxing soak in the tub to enjoy the bath salts, shower gel, body scrub, hand lotion and body butter - all infused with calming Rose extract along with Vitamins E and A, Cocoa Butter, Mango Butter and Evening Primrose Oil.
Our Price £37.50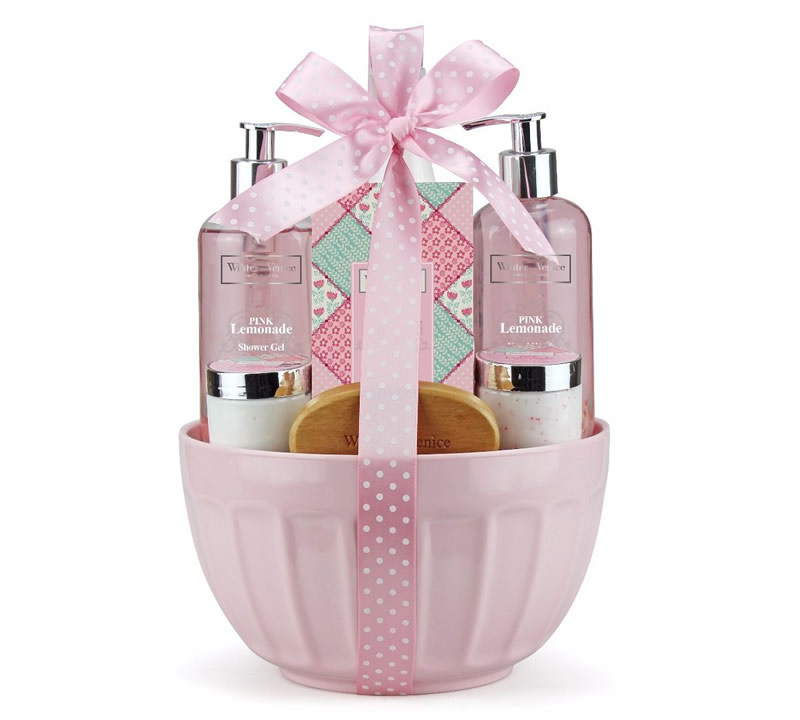 Our hand-finished Kula Spa Bath Tub will transport you instantly to a place of warm sand, gentle waves lapping, and the evening scent of sea air. This wonderful gift includes everything you need for a winter's night in, or a lazy Sunday morning pamper session. A beautiful, re-usable bathtub tidy is packed with bathtime products and will sit smartly in any bathroom.
Our Price £23.99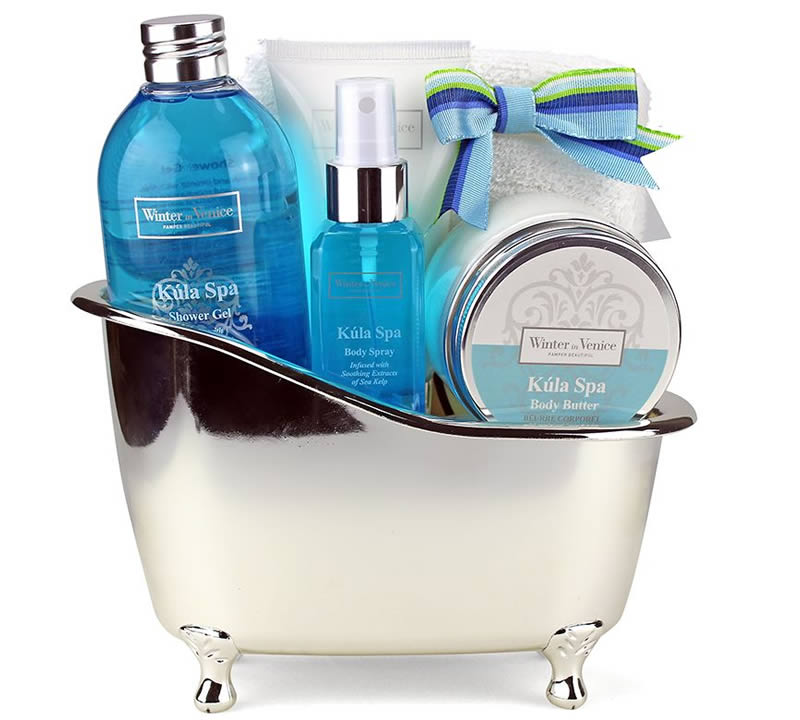 This beautiful gift contains a great selection of official Yankee Candle votives, artificial roses and chocolate, all presented in a bouquet. This is the ultimate gift for any candle and chocolate lover, featuring 6 official votive candles, 18 artiificial roses and a selection of Ferrero Rocher chocolates.
Our Price £35.00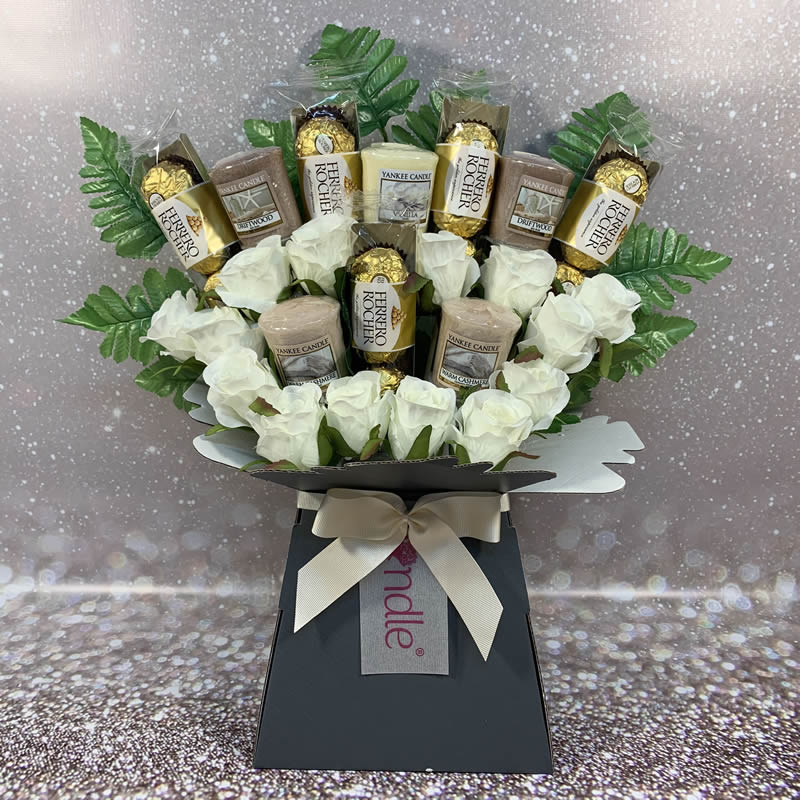 Timeless, versatile and smart, this suede hat box comes filled with an array of bath & beauty products infused with a wonderful blend of warm Vanilla and delicious Berries. The set includes bath salts, soft comfy slippers, body brush and gels.
Our Price £44.99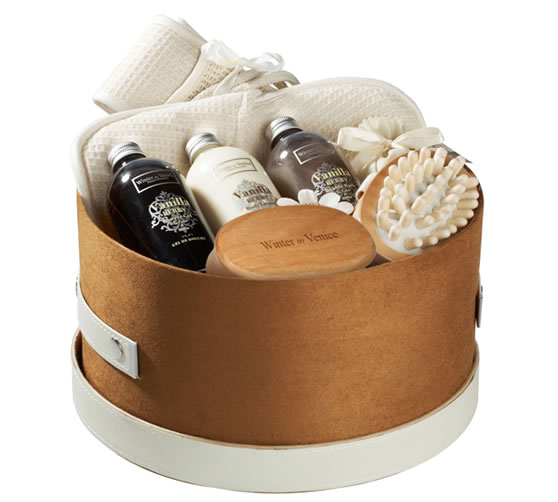 It's not often that a long day in the garden also brings pampering to mind, but the French Linen Watering Can does just that. Perfect for green fingered folk who also like to treat themselves a little, this quirky bath & beauty gift perfectly blends both passions.
Our Price £39.00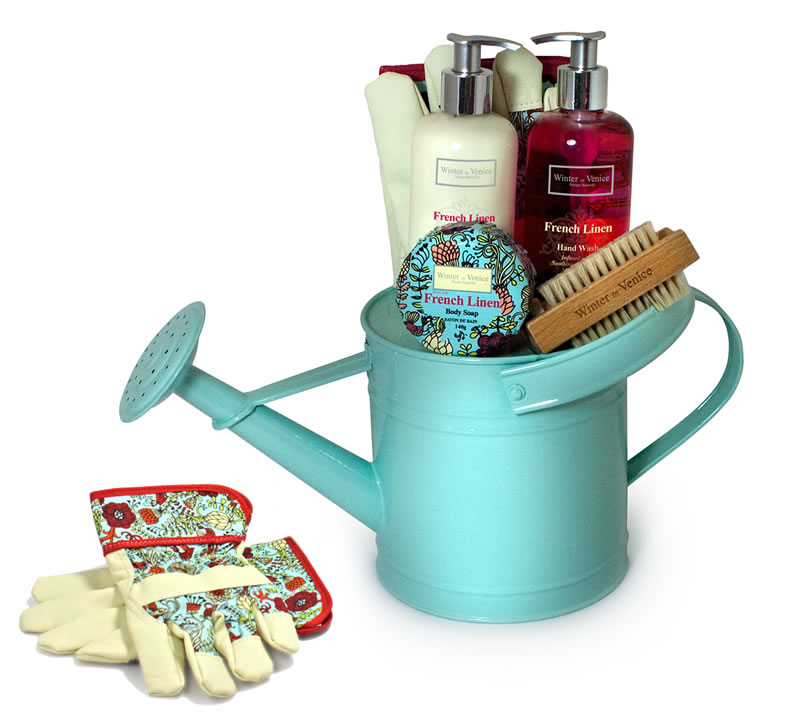 This vintage reusable jewellery case contains shower gel, body lotion, bath soak, bath salts, a hand cream and a rose shaped bath puff. The toiletries are all infused with soothing extract of Lily, to make bathtime a wonderfully indulgent experience. The jewellery case comes with an insert tray and dividers for storing your treasured earrings and trinkets, and the larger section provides space for necklaces, bracelets and your cherished keepsakes.
Our Price £39.00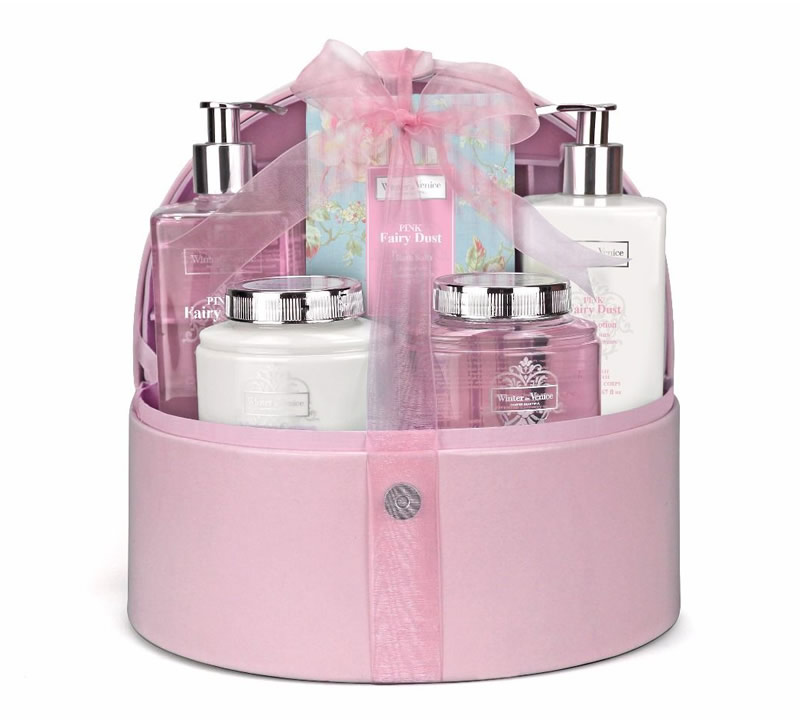 We can deliver this impressive gardening themed pamper hamper to your loved one anywhere in the UK, along with your personalised gift message. Infused with natural extracts of Rosemary, the hand soap, hand lotion, bath soak and body butter will soothe the tired and aching limbs of any keen gardener.
Our Price £59.99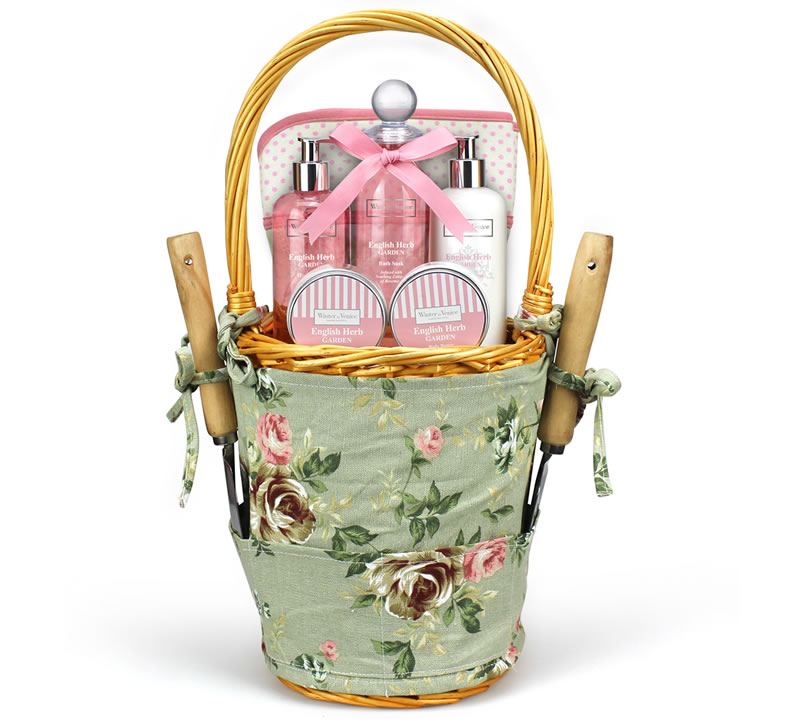 This bath & beauty hamper is packed with zingy citrus fruit aromas.The beautiful fragrance of natural citrus will enliven and invigorate the senses - smother on the thick moisturising body lotion, immerse yourself in a soothing warm bath, or spread on the body butter, letting your mind drift away.
Our Price £40.00