---
Bath & Beauty Gifts At Hampergifts.co.uk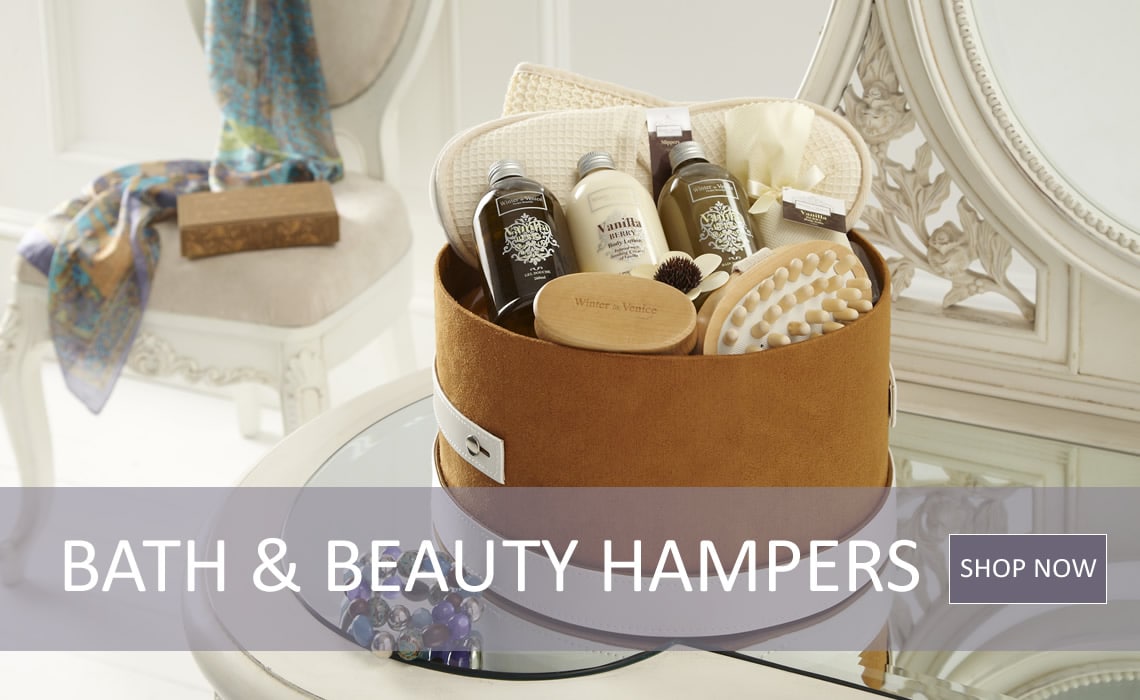 Our Bath & Beauty Gifts are the perfect way to unwind after a long hard day. They contain everything that's needed to soothe, unwind and rejuvenate.
Our specially chosen products include scented soaps, bathtime hampers and even gardening themed gifts, all gift-wrapped by hand. There's something for everyone from a green fingered mum who loves a long soak after a day in the garden to fizzy bath bombs for those who are a little more effervescent. 
Oozing country charm and rustic French ambiance, this delightful wooden cupboard is one of our favourites. The beautiful fragrance of cedarwood will enliven and invigorate the senses - smother on the thick moisturising body lotion, immerse yourself in a soothing warm bath, or spread on the body butter, letting your mind drift away through a haze of fragrant cedarwood and almond oil.
Our Price £40.00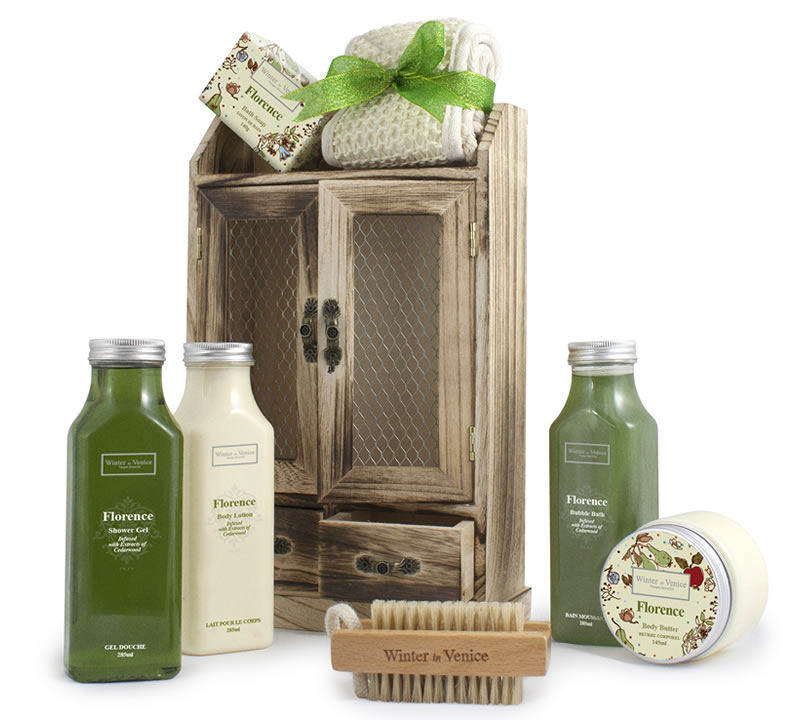 Relax, run a hot bath and let our luxurious Bath themed tower do the rest. This exclusive treat is jam packed with a fantastic selection of scented bath products for the ultimate pampering session.
Our Price £39.99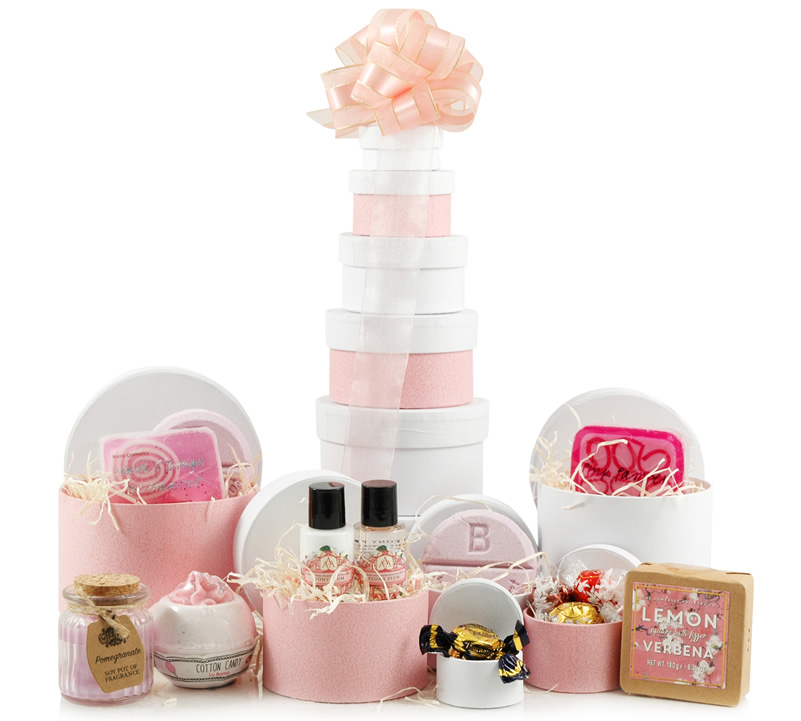 A gorgeous white two-door cabinet filled with a collection of toiletries including body butter, shower gel, body scrub, bath salts and hand & body lotions. All are infused with the scent of Milk Thistle and you will also find a beech nail brush along with a scented candle to help you relax and unwind.
Our Price £50.00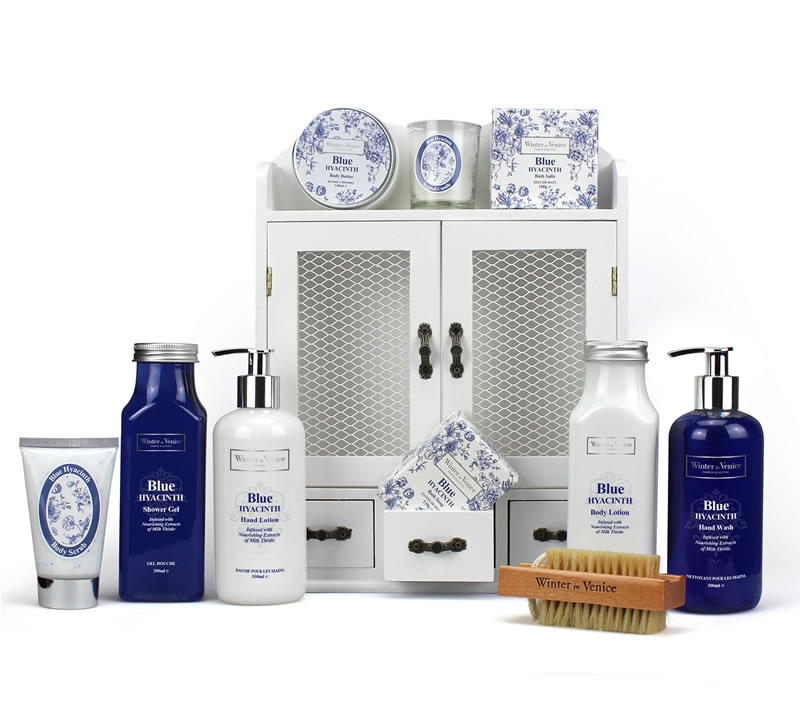 Five quirky & uplifting products to lift your mood and leave you feeling funky. Indulge in the beautifully mild scented soaps, or drop the seductive bath creamer into a warm bath to see it fizz softly, releasing its perfume and essential oils.
Our Price £16.99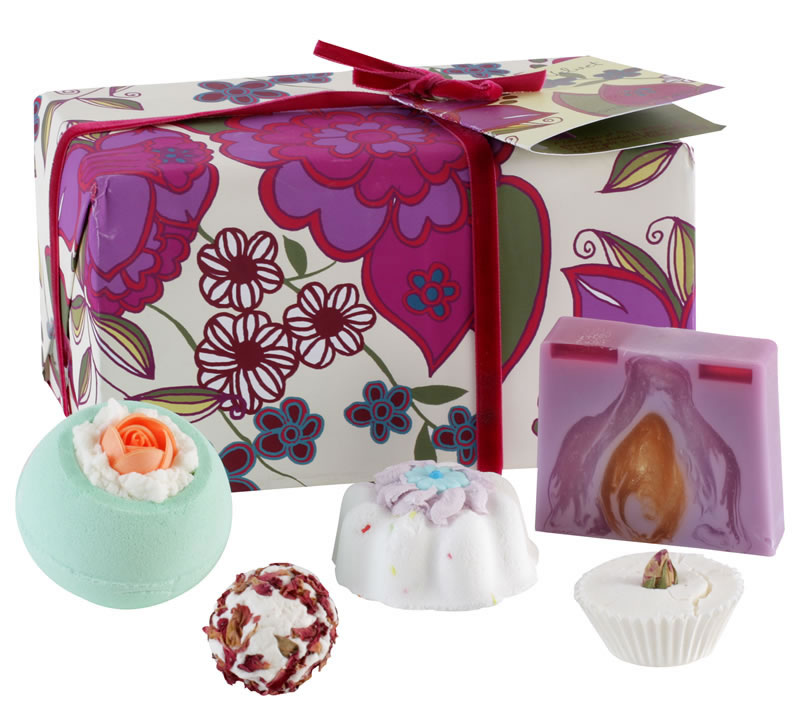 A delightfully pampering gift for that special someone. The contents include body butter, bath pearls, shower gel, body lotion, body soap and a rose shaped body puff. Infused with Lily extract, these scented delights promise to deliver a floating & soothing bathing experience to whoever receives this lovely gift.
Our Price £23.99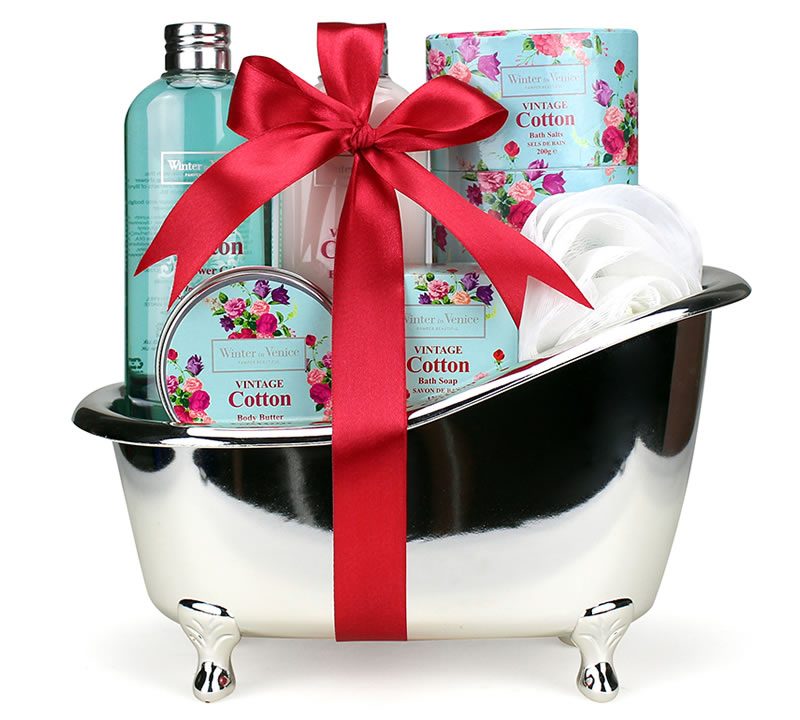 Beautifully gift wrapped with ribbon this lovely hat box is filled with 8 scented bath products including a lovely scented candle, scented soaps and shower butter. And the bath blasters will keep your bath water gently fizzing for days.
Our Price £29.99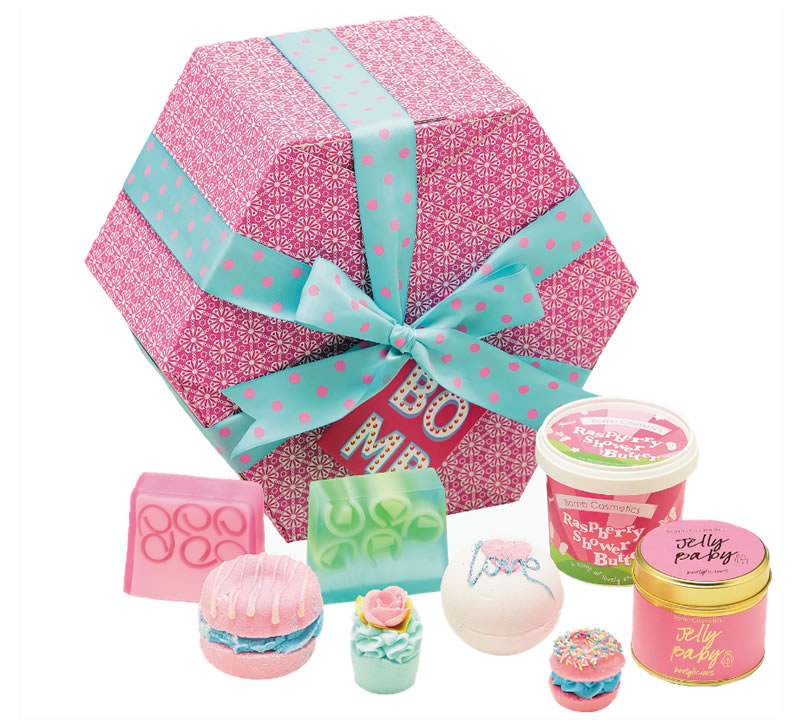 Inspired by the spirit of the Far East, these pampering treats will provide you with moments of rest, relaxation and escape, whenever you need them. Packed into the attractive, reusable tissue box you'll find a selection of bath & beauty products infused with extracts of Red Ginseng, perfect to transport you to a place of tranquillity & rest.
Was £38.00
Now £34.20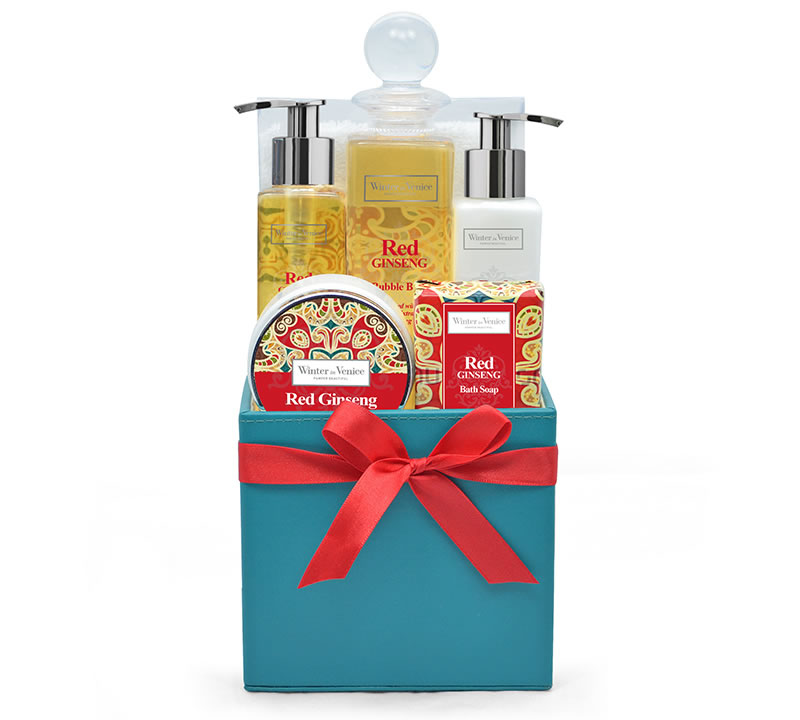 This unique gift is a wonderful blend of the traditional and contemporary. The timeless re-usable, metal watering can arrives with some lovely gardening gloves. And after pottering in the garden you can enliven and invigorate the senses with the hand lotion, body soap and hand wash, all featuring milk thistle fragrance.
Our Price £39.00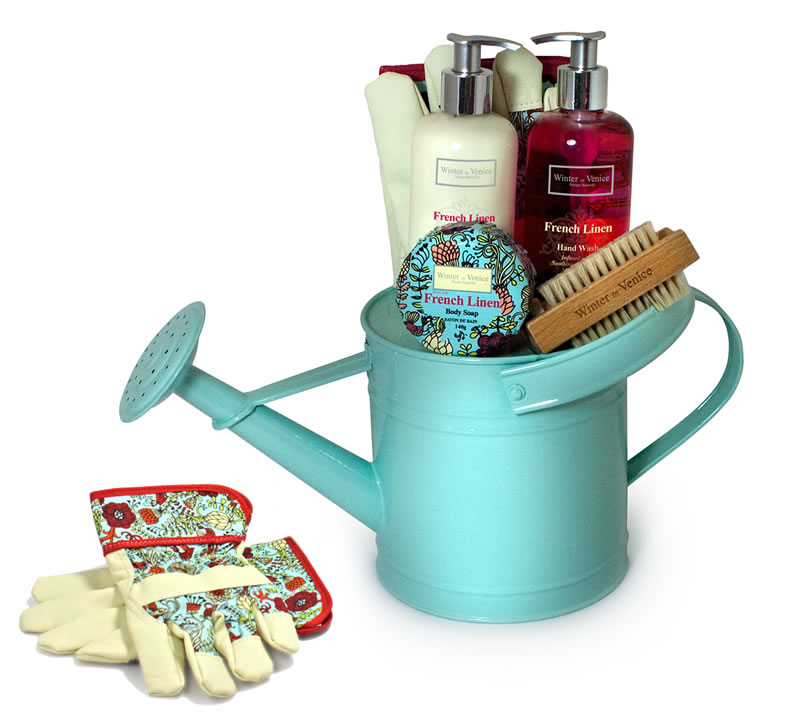 Timeless, versatile and smart, this suede hat box comes filled with an array of bath & beauty products infused with a wonderful blend of warm Vanilla and delicious Berries. The set includes bath salts, soft comfy slippers, body brush and gels. Stylish and contemporary, the beautiful suede box can be filled with scarves, jewellery or little memoirs of yesteryear. The possibilities are endless!
Our Price £44.99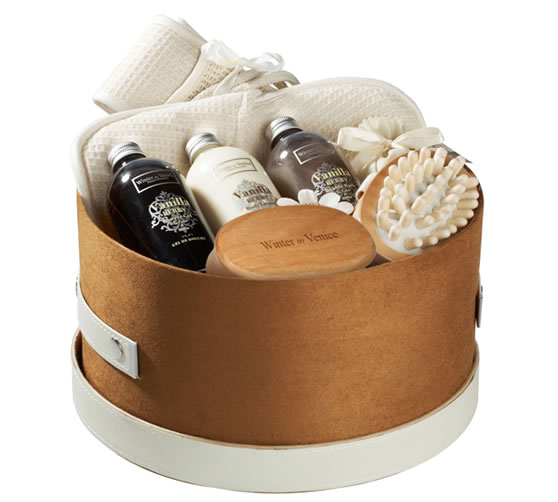 A true pamper hamper filled with everything you need to indulge. The rich blend of plum and cream makes this an absolute treat. This generous collection of lotions and potions, accompanied by an array of bathing accessories and a superb wooden bowl puts this gift on the very top of any gift list.
Our Price £47.99