---
Hypnotic floral flames of yellow, orange and red dance majestically together in this classic autumnal bouquet. The scented freesias and lilies are stoked by fiery Carthamus and orange roses before being smothered by red Chrysanthemums.
Our Price £24.99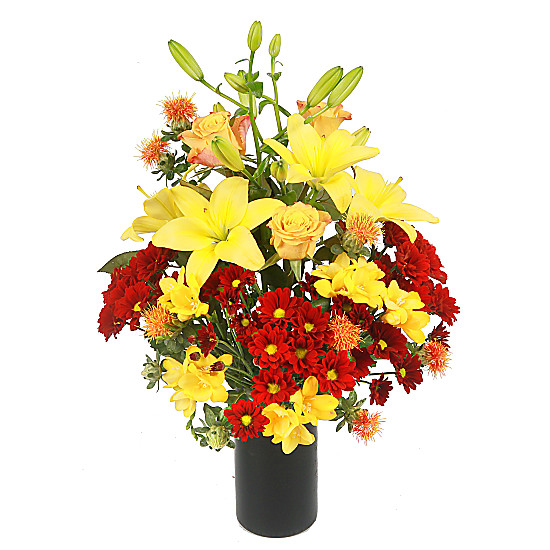 As the leaves turn and fall we celebrate the season with this pretty mix of chrysanthemums, hypericum berries, eryngium, wheat and a single red rose.
Was £24.99
Now £19.99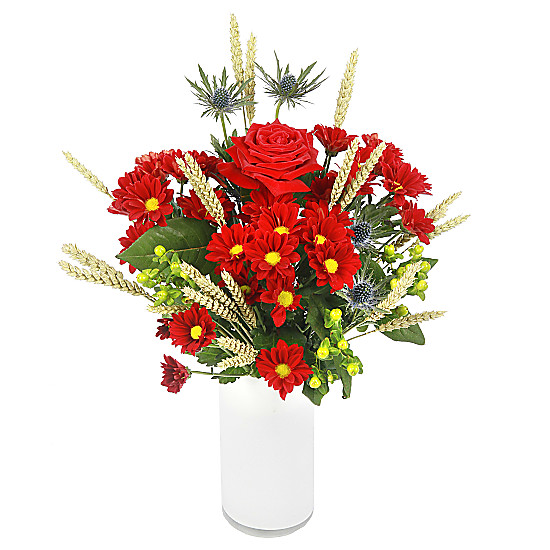 Ancient suns of gold and amber create a tropical ambiance for this intense floral display of colour and vibrancy. This outstanding rose and lily bouquet will lend a touch of mysticism to any home.
Was £29.99
Now £19.99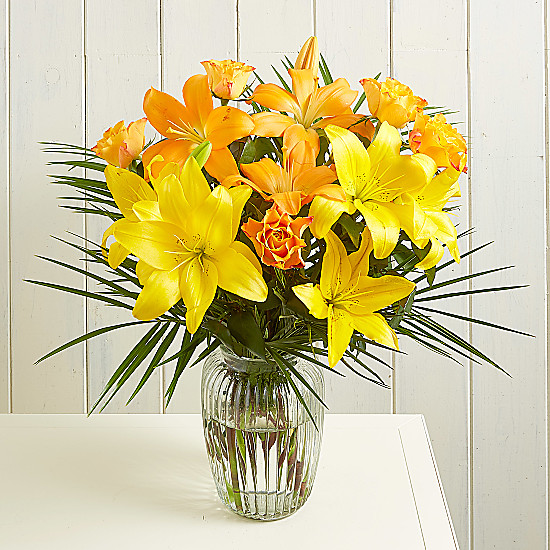 Inspired by fields of golden wheat catching hazy summer sunlight this pretty bouquet with white and yellow flowers mixed with real wheat brings the essence of summer into any home
Was £24.99
Now £19.99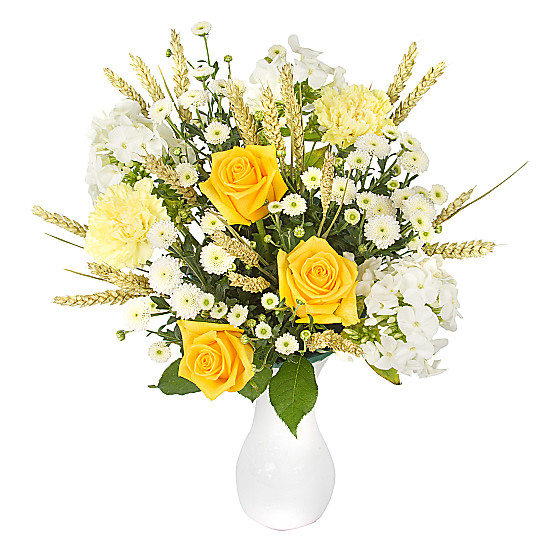 Beautiful autumnal character is captured in this seasonal selection of blooms, with bright sunflowers, red roses, blue eryngium, solidago and a gorgeous white scented lily.
Our Price £39.99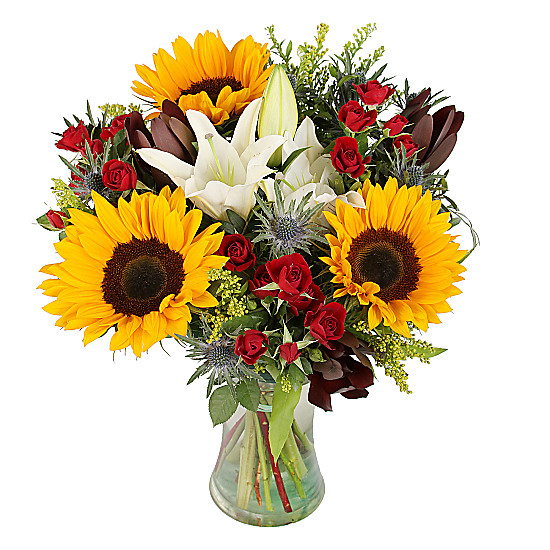 This lovely bouquet filled with the autumnal colours of orange germini, red roses, scented freesia and red oak leaves will provide a lovely backdrop to all your condiment making this autumn.
Was £34.99
Now £29.99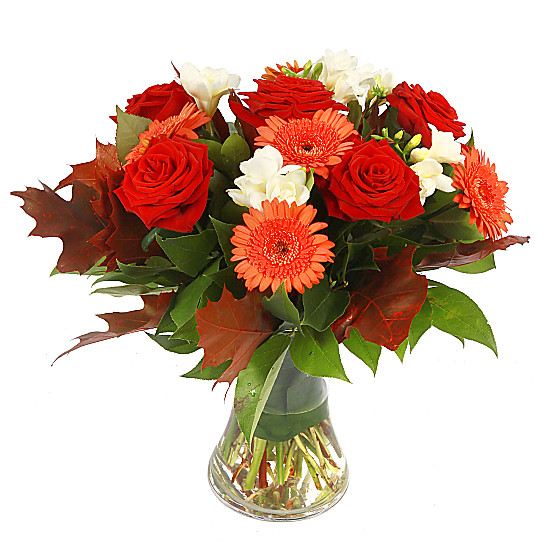 Bursting with tropical vibes these stunning orange Mokara Orchids are worlds apart from forecourt fodder! These architectural beauties come complete with dark green tropical foliage for the ultimate floral display.
Our Price £24.99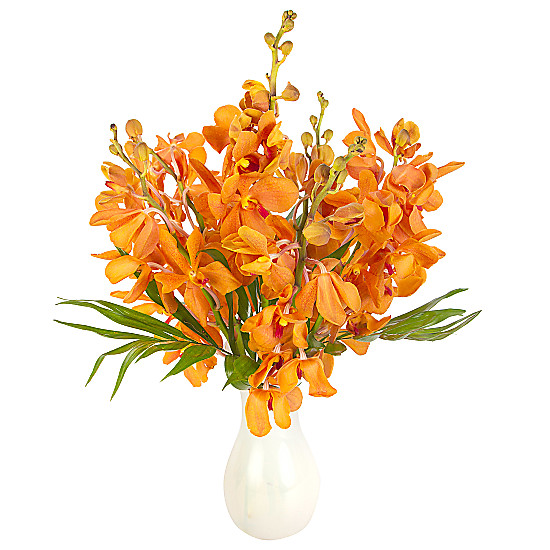 Vintage shades of pink and cream blooms mixed with stunning luscious dark foliage create a bouquet with classic elegance and style.
Our Price £34.99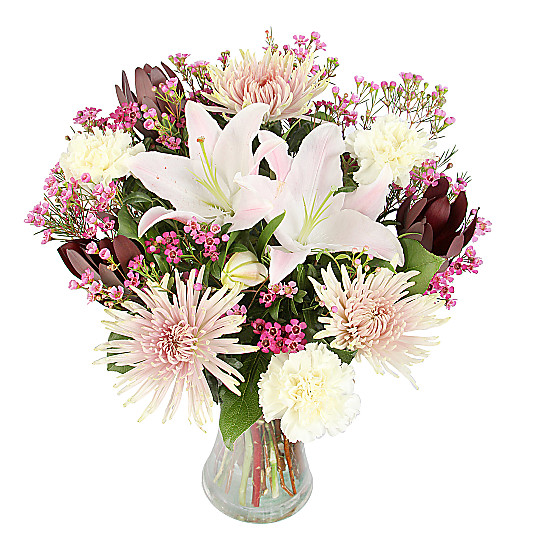 A love affair with an exotic flair, Romana is a harmonious blend of traditional and new in a show-stopping display of contracts, textures, colours and most importantly fragrance.
Was £39.99
Now £34.99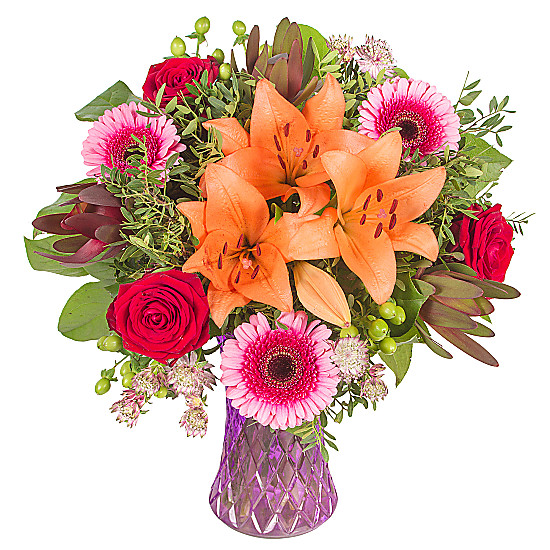 Nobody wants the sun to go down on a beautiful summer day but if it must then let's hope for a gorgeous summer sunset with delicate hues of orange and pink this wonderful bouquet pays homage to the stunning setting sun
Our Price £24.99