ATG Tickets - Agatha Christie's The Mousetrap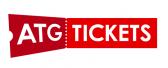 ATG Tickets & Silverbean Newsletter
Wednesday 23rd January 2019
ATG Tickets- Agatha Christie's The Mousetrap
Welcome to the latest newsletter from ATG Tickets and Silverbean.Milton Keynes, Woking, Torquay and Glasgow join the UK tour of Agatha Christie's The Mousetrap, the longest running show of any kind in the history of theatre.
The scene is set when a group of people gathered in a country house cut off by the snow discover, to their horror, that there is a murderer in their midst. Who can it be? One by one the suspicious characters reveal their sordid pasts until at the last, nerve-shredding moment the identity and the motive are finally revealed. Experience shuddering suspense and a brilliantly intricate plot where murder lurks around every corner.
'The cleverest murder mystery of British Theatre'
The Telegraph
'A truly entertaining classic thriller'
The Sunday Times
'Deservedly a classic among murder thrillers'
The Observer
Milton Keynes Theatre
Monday 19 - Saturday 24 August 2019
New Victoria Theatre, Woking
Monday 2 - Saturday 7 September 2019
Princess Theatre Torquay
Monday 9 - Saturday 14 September 2019
Theatre Royal Glasgow
Monday 28 October - Saturday 2 November 2019
TICKETS ARE ON SALE NOW
---
DIRECT URL:
https://www.atgtickets.com/shows/the-mousetrap/

DEEP LINK:
https://www.awin1.com/cread.php?awinmid=5931&awinaffid=!!!id!!!&p=
https%3A%2F%2Fwww.atgtickets.com%2Fshows%2Fthe-mousetrap%2F

Queries / Contact Us...
If you have any queries, or would like to request anything please
contact Nic Yates at Silverbean, and he will be happy to help:
telephone: 
+44 (0) 191 406 1200
In Association with ATG Tickets' Exclusive Affiliate Partners Agency.
Tags: ATG, ATG Tickets, onsale, theatre, tickets