Amazing Offers to go with Our NEW Site!!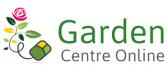 Garden Centre Online have launched a New Website!!!
Not only that , here are some fantastic offers to go with it...
Bonsai Olive trees now 50% off...at just £9.99 for a pair
Oleander Collections – now FOUR plants for the price of just ONE! Best Ever price. Best in UK!
Happy Promoting!
Please contact me with any offers
lucy.falle@mblgroup.co.uk