Amazing new offer, worth up to an incredible £293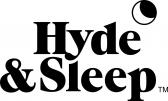 An amazing new offer worth up to £293 to offer your readers.
You're thinking of buying a new mattress and then someone offers you the duvet, sheets and pillows to go with it, all for free! How could you resist such an amazing offer!
Our pillows have cooling technology, our sheets are infused with Aloe Vera and our duvet is 100% pure cotton.
We would love to see how you promote this offer to your customers, so please get in touch and let us know.
Contact Natalie.dale@hydeandsleep.com
Offer is valid until 11th June.