Affiliate Window launches the Stub Hub Lead Generation Campaign!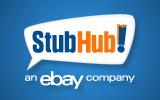 Affiliate Window is pleased to announce the launch of a new lead generation campaign for the world's largest ticket marketplace – Stub Hub! UK

About Stub Hub!
Stub Hub is the world's largest ticket marketplace and their mission is to provide fans with a safe, convenient place to get tickets to the games, concerts, and theatre shows they want to see, and an easy way to sell their tickets when they can't go.
Commission
Affiliates will receive £1.00 per unique and valid email registrations. Unique leads are those that do not already exist within the Stub Hub database, and valid means all of the customer email addresses are correct.
The short, easy to complete data capture form can be found here
Affiliates will have unique banners, logos and e-mail html available for the campaign. Should you need any additional creative please contact me directly christopher.ahimie@affiliatewindow.com
The Stub Hub lead generation campaign is open to all types of publishers except cashback and loyalty.
For those of you that require data posting instructions from lead capture on your own sites, please contact me directly.
To apply today, click here
Look forward to hearing from you!
Chris