Affiliate Exclusive 3 for 2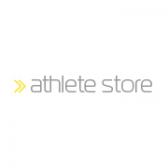 For this weekend only, here is an exclusive 3 for 2 voucher code to use across the whole product range* at athletestore.co.uk. Home of premium sports nutrition brands For Goodness Shakes and Nectar, athlete store is the #1 online shop for energy, hydration and recovery supplements.
Code: 342SAVE
Validity: Friday 22nd - Sunday 24th
http://www.athletestore.co.uk/
*offer excludes any other existing voucher codes, onsite deals and discounted products including bundles.