Absolute Collagen - Premium Hydrolysed Peptide Marine Collagen Liquid Supplements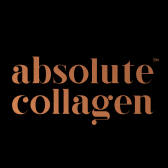 Absolute Collagen is a female-founded UK beauty and wellness brand. Maxine Laceby founded the business from her kitchen table aged 50 and with no prior business experience. Maxine started boiling up bone broth for the skin-boosting properties, then, with no big brand backing and against a lot of naysaying, she developed the first AC product: a daily dose of hydrolysed collagen in a handy, ready-mixed 30ml sachet.
Hydrolysed collagen means the molecules are chemically broken down into collagen peptides so they can pass into the bloodstream, where they work by triggering the body's own collagen production. Each sachet contains 8000mg of premium marine collagen from farmed tilapia and pangasius fish (which means we know they are free from antibiotics, metals, and other "nasties"), 7.7g of protein, and Vitamin C which is an essential cofactor for collagen synthesis.
The product is UK made and uses BRC accredited suppliers, with dispatch centres across the EU. Following the success of Absolute Collagen's liquid collagen (including winning a CEW Award – "the Oscars of Beauty") Maxine responded to the many calls from Absoluters for a topical skincare product to work alongside the sachets, and she developed Maxerum. This serum contains four active ingredients and is clinically proven to reduce signs of skin aging. It is vegan, cruelty-free, kind to skin and dermatologist approved.
Maxine's personal brand within this is incredibly strong, and she maintains a strong presence in the Absoluters group and overall brand voice and direction, which helps us perform especially well with women over 40 who are a key part of our audience (although AC is inclusive and suitable for all ages, genders, ethnicities and skin types). 

Promote our brand and best selling product with the deep link below:
https://www.awin1.com/cread.php?awinmid=19901&awinaffid=!!!id!!!&ued=https%3A%2F%2Fwww.absolutecollagen.com%2Fproducts%2Fmarine-liquid-collagen-drink-for-women%3Fvariant%3D39270444892341
Note: replace !!!id!!! with your ID