9% Commission on Slipcovers till Midnight + £20 Voucher and 10% of Christmas Decor till 25th Dec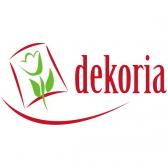 Don't miss out on Dekoria's range of amazing offers for TODAY and till Christmas! Choose the offer that suits your website best, or promote all 3 and enjoy great commission in December.
Last Chance: Earn 9% on Slipcovers till MIDNIGHT
Until 11pm on Friday 8th Dec Dekoria is increasing commission on ALL Ikea sofa, armchair and chair covers from the regular 5% to a fantastic NEW rate of 9%.
New slipcovers are a quick and easy way to update the living room and seating area in time for festive family get togethers - at a fraction of the price of replacing the whole suite and in time for Christmas. We offer over 100 fabric options and dozens of Ikea furniture models to choose from - all made to order within 1 week and available for pre-Christmas delivery.
10% OFF all Christmas textiles
10% discount on all purchases from the beautiful Christmas collection for last minute festive touches. Textiles are made to order within 1 week, so pre-Christmas delivery is still available.
Offer valid from 1st until 25th December 2017. No code, no hassle - discounted prices are shown on the website.
£20 Voucher on all orders over £200
This month we are offering a £20 voucher on all orders over £200. This saving may be combined with the Christmas offer to maximise savings.
Code: DEC20
Expiry: 11:59pm on 25th Dec 2017
Please contact us on ali@dekoria.co.uk if you have any questions about these offers.
All the best,
Dekoria Team
Tags: Christmas, discount, discount code, discount codes, discounts, gift, gifts, home, incentive, offers, presents, promo code, promotion, promotions, savings, special offers, voucher, voucher code, voucher codes