50 T-Shirts For Under £15 At SportsShoes.com
Lightweight, Breathable, Technical, these are all attributes of the 50 t-shirts on offer at SportsShoes.com. Not only that, but they are under £15. So, not only are they top quality items, they are also at a great price. Some of these products include the Nike Dri-Fit Cotton Short Sleeve T-Shirt and the Asics Logo Graphic Short Sleeved T-Shirt.
T-Shirts For Under £15
To see the entire selection, click here.
Adidas TechFit Preparation Compression Short Sleeve T-Shirt


Designed for the best fit during tough training, the adidas TECHFIT™ Preparation outfit provides high compression to maximise power and endurance. This outfit features CLIMACOOL® ventilation to keep you dry during warm weather training and flat-lock seams to reduce chafing keeping you comfort.
RRP £22.99
Our Price £14.99
Nike Dri-Fit Cotton Short Sleeve T-Shirt


Wears like cotton, works like Dri-FIT. A very versatile Nike Dri-FIT Cotton T-Shirt delivers a combination of soft cotton comfort and superior sweat-wicking performance that goes from gym to field and everywhere in between. A blend of Dri-FIT cotton and polyester creates the ultimate balance of comfort and performance.
RRP £15.99
Our Price £13.99
Nike Challenger Pin Wheel Short Sleeve T-Shirt


The Nike Challenger Pinwheel Men's Running Shirt charges down the streets and up the trails. Flat lock seams and a mesh construction create a mobile and breathable fit while the sweat-wicking fabric helps keep you dry through the run.
RRP £17.99
Our Price £14.99
Adidas Essentials F Short Sleeve T-Shirt


This adidas Essentials T-shirt is designed to keep you cool and comfortable at all times. Combining classic style with modern technology such as ClimaLite to wicks sweat away ensuring you stay cool at all times.
RRP £17.99
Our Price £14.99
Asics Logo Graphic Short Sleeved T-Shirt


Run in dry comfort with this two-tone, lightweight, short sleeve, slim fit, raglan seamed Asics Logo Graphic Short Sleeved T-Shirt, engineered to help you move with ease.
RRP £19.99
Our Price £14.99
Nike Challenger Pin Wheel Short Sleeve T-Shirt


The Nike Challenger Pinwheel Men's Running Shirt charges down the streets and up the trails. Flat lock seams and a mesh construction create a mobile and breathable fit while the sweat-wicking fabric helps keep you dry through the run.
RRP £17.99
Our Price £14.99
Under Armour Run Heatgear Short Sleeve T-Shirt


Under Armour Run Heatgear T-Shirt is built with technology that makes you better, from serious cross training to hard gym workouts. It is super lightweight and it wicks sweat fast so you're never weighed down. But to totally crush the standard for a great T-shirt, Under Armour's HeatGear® fabric also gives you unparalleled stretch and flexibility.
RRP £17.99
Our Price £14.99
Adidas Refresh ClimaLite Training Short Sleeve T-Shirt


There's nothing worse that getting part way through you your exercise and realizing that your shirt is rubbing you the wrong way. That's why this t-shirt features FORMOTION™ design that fits the body like a second skin, as well as strategic CLIMACOOL® ventilation to keep you cool and dry, mile after mile.
RRP £21.99
Our Price £11.99
Adidas TechFit Preparation Compression Short Sleeve T-Shirt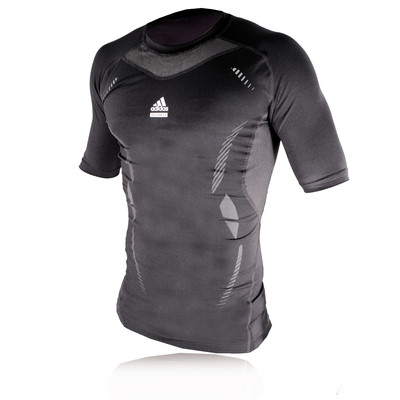 Designed for the best fit during tough training, the adidas TECHFIT™ Preparation outfit provides high compression to maximise power and endurance. This outfit features CLIMACOOL® ventilation to keep you dry during warm weather training and flat-lock seams to reduce chafing keeping you comfortable.
RRP £22.99
Our Price £14.99
Under Armour UA Combine Bolt Short Sleeve T-Shirt


Comfortable, lightweight, 4-way stretch fabrication improves mobility and makes the garment very breathable. This also maintains the shape of the shoe and durability. The blown-out mesh back delivers superior ventilation to keep you cool when your game heats up and Game-changing Moisture Transport System wicks away sweat to keep you cooler and drier.
RRP £29.99
Our Price £14.99