---
50% Off L'oreal Men Expert At Chemist Direct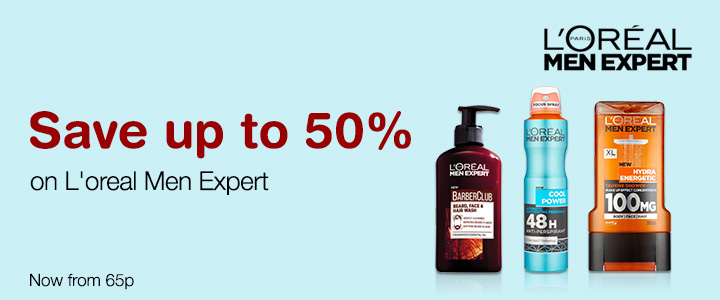 Get 50% Off L'oreal Men expert at Chemist Direct. The Perfect gift for father's day
Now From 65p
Click here to find out more
L'Oreal Men Expert Shave Revolution Extreme Glide Gel gives a revolutionary shaving experience. This non-foaming shave gel is enriched with cooling agents and is specially formulated to give the smoothest shave possible.
Was £3.99
Now £1.99
Save £2.00

L'Oreal Paris Men Expert Total Clean Shower Gel 300ml is a carbon enriched shower gel with a 5 in 1 total action specially formatted for men. Enriched with carbon, this shower gel helps to remove impurities such as sweat. Its fresh, invigorating scent helps to revitalise your mornings.
Was £2.95
Now £1.47
Save £1.48

L'Oreal Paris Men Expert Vita Lift 5 Complete Revitalising Moisturiser is a daily intensive moisturiser to help make your skin feel smoother, firmer, and revitalised. With active ingredients, it works to provide intense moisturization to your skin for achieving healthier skin.
Was £12.99
Now £6.49
Save £6.50

L'Oreal Men Expert Skin and Stubble Face Wash eliminates dirt and pollution from stubble and beard area, and conditions and softens the feel of facial hair.
Was £5.99
Now £2.99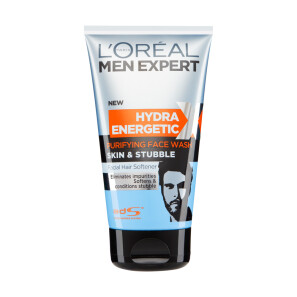 L'Oreal Men Expert Invincible 96 Hours Roll On promises to keep you dry, cool and odour-free for an entire 96 hours. Its ultra-fresh, invigorating fragrance and extra-large roll on, delivers active ingredients to the skin to keep you protected against odour.
Was £2.69
Now £1.34
Save £1.35

L'Oreal Men Expert Pure & Matte Anti-Shine Moisturising Gel is the future of your skin in your hands! This moisturiser has been exclusively designed for men to provide shine control, healthy looking skin and intense moisture.
Was £7.99
Now £3.99
Save £4.00

L'Oreal Men Expert Hydra Energetic Eye Roll On rids those tired eyes that show your bad night's sleep. Help revive tired looking-eyes each morning with an ice cool eye roll-on & refreshing formula, which is designed to reduce the appearance of bags and dark circles. Each day your eye contours appear brighter.
Was £10.99
Now £5.49
Save £5.50

L'Oreal Men Expert Hydra Energetic Daily Fatigue Moisturiser formula contains Vitamin C and caffeine to fight the signs of fatigue and stress including dull looking skin and drawn features. This non-greasy lotion absorbs quickly into the skin to leave your skin looking and feeling refreshed and healthy
Was £9.79
Now £4.89
Save £4.90

L'Oreal's first Men Expert shower gel enriched with Taurine. This ingredient, packed with vitamins, provides an energetic sensation when applied to skin. A shot of energy to provide men with the perfect morning pick-me up in the shower. Now in a travel-handy bottle to give you a morning boost wherever you are in the world.
Was £1.29
Now £0.64
Save £0.65