---
50% Off Autumn Countdown Begins At Glasses Direct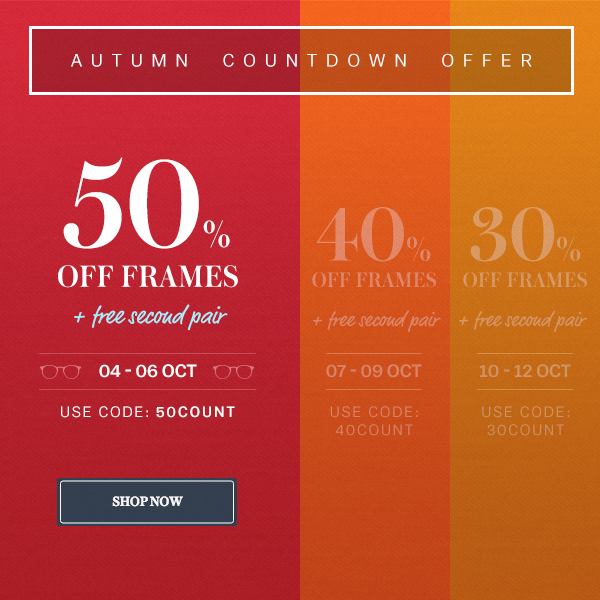 The start of our Autumn Countdown Offer is the best place to be for great savings on glasses. But time's ticking - you've less than 72 hours to get the best deal. Shop before midnight on Thursday for 50% OFF your glasses plus a free second pair*.
Then the discount drops to 40%. Then it's down again to 30%.
Enter code 50COUNT at checkout while you can. Your chance for 50% OFF finishes Thursday 6th October 2016, Countdown Offer ends Next Wednesday 12th October 2016.
Voucher Codes
Code - 50COUNT
Promotion - 50% off your glasses plus a free second pair
Expires - Midnight Thursday 6th October 2016
Code - 40COUNT
Promotion - 40% off your glasses plus a free second pair
Starts - Friday 7th October 2016
Expires - Midnight Sunday 9th October 2016
Code - 30COUNT
Promotion - 30% off your glasses plus a free second pair
Satrts - Monday 10th October 2016
Expires - Midnight Wednesday 12th October 2016