---
5% Off At Serenata Flowers
Get 5% off until the end of April at Serenata Flowers. Just enter the code reTff54ds at the checkout to receive your discount on some beautiful flowers today, and don't forget - it's free delivery!
Make someone's special day last way past sunset with bright-coloured petals that continue to glow long after the candles have been blown out. Birthdays come but once a year, so take the opportunity to really spoil someone with flowers.
Classic vintage colours combine in this spectacular bouquet, with wonderfully scented Freesias, cheerful Germini, the classic beauty of Roses and Leucadendron foliage. Simply stunning.
Was £34.99
Now £29.99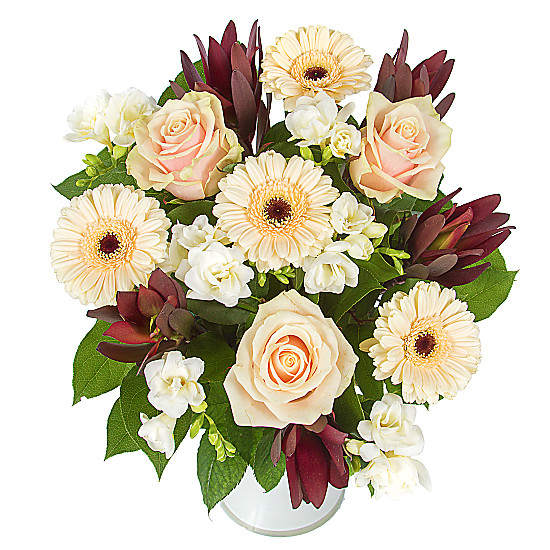 Take a moonlight stroll down twilit lanes while silvery starlight dances on lavender freesia and the petals of white roses.
Was £24.99
Now £19.99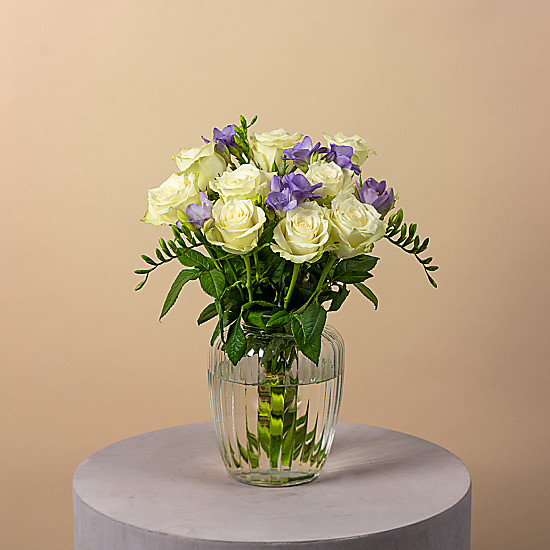 Stunning bouquet with contemporary orange zantedeschia blooms, classic white roses and exotic foliage.
Was £29.99
Now £24.99

Blushing pinks and rosy peach make a wonderfully cheerful gift bag, a super mix of Roses and Germini nestled beautifully with delicate Gypsophila, heavenly.
Was £39.99
Now £29.99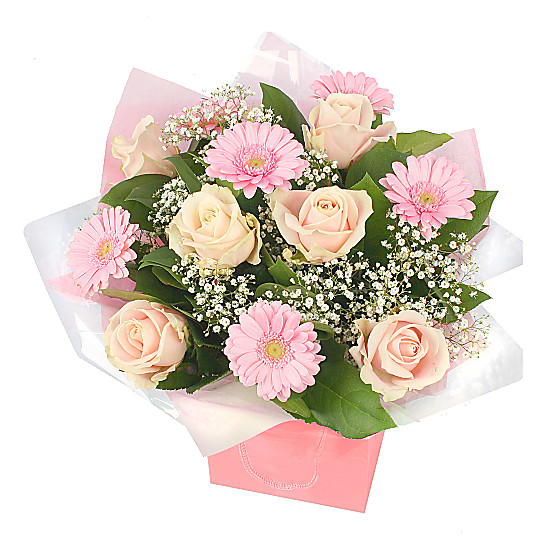 Sassy orange Roses and brilliant purple Statice flowers make this diva a force to be reckoned with! Presented in a sublimely vibrant pink glass cube.
Was £34.99
Now £29.99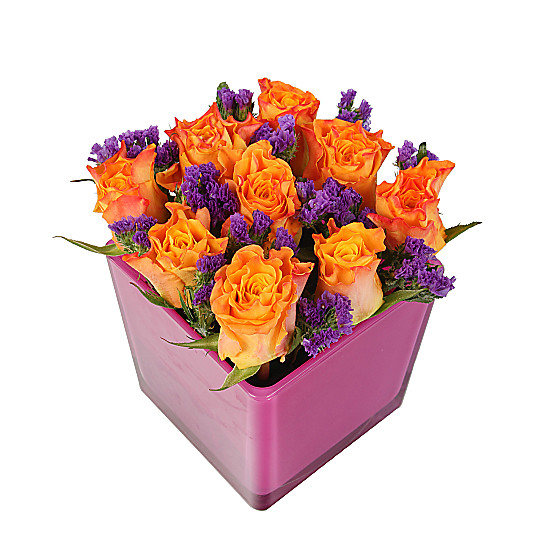 Is there a recipe for the perfect smile? We think our researchers have come pretty close: take a handful of precious pink gerbera daisies, stir in a dash of alstromeria blooms, add a sprinkling of daisy and finish with a swirl of roses. (Note: The real secret of this smile is that you'll be sure to get one in return!)
Was £34.99
Now £29.99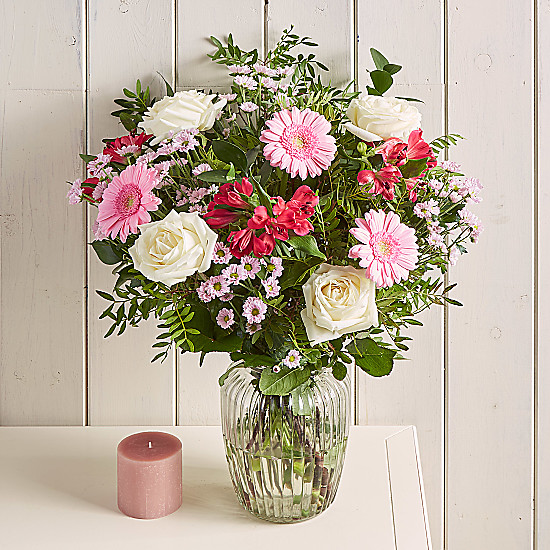 Get your jungle jive on at Club Tropicana - 'cos these showgirl heliconias sure know how to party. Big, bold shapes. Big, bold colours. Big, bold impact.
Was £26.99
Now £19.99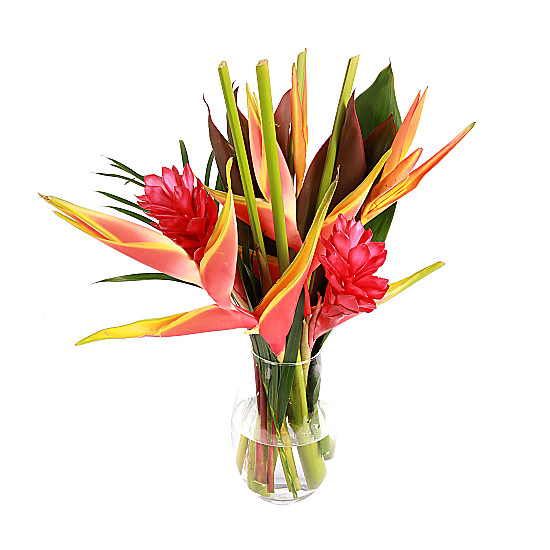 A blast of bright lemon yellow Roses and scented lavender presented in a gorgeous emerald green glass cube.
Was £34.99
Now £29.99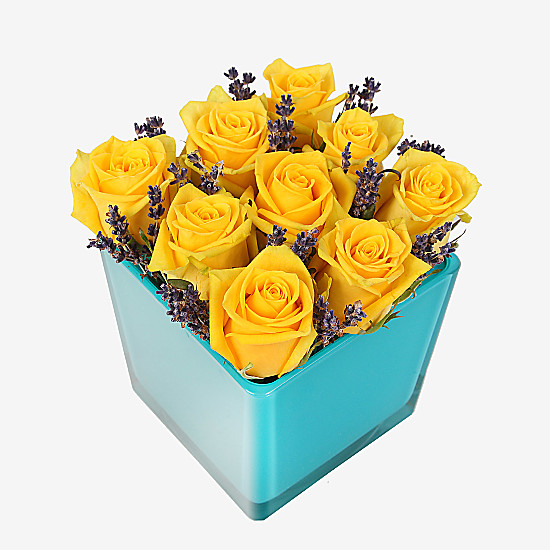 Souad is a floral dedication to every strong, vivacious and determined woman. A celebration of life itself, it's bold and elegant, sophisticated and fun, vibrant yet delicate. A simply stunning combination of jewel like colours, it's aglow with vibrant pinks, ruby reds, plush purples and proud yellows.
Was £39.99
Now £34.99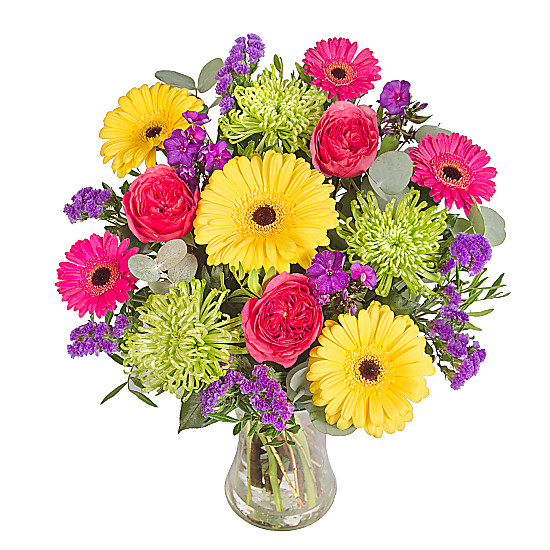 Shell-white gerbera daisies and frothy masses of daisy mums bob amongst the waving arms of purple veronica blooms. There are plenty of places for shy mermaids to hide in the depths of purple lisianthus, blue thistle, delphinium and foaming purple statice.
Was £39.99
Now £29.99