---
Up To 40% Off Nicorette At Chemist Direct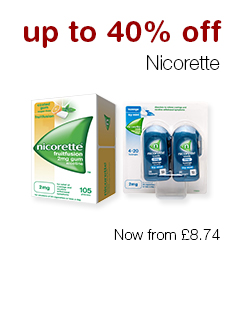 Today we bring you up to 40% off Nicorette at Chemist Direct from only £8.74. Please click here to see full range.
New Nicorette Icy White Gum not only helps you to overcome your urge to smoke, but also improves teeth whiteness.
Was £12.80
Now £8.96


Nicorette Gum Original 2mg gives you a flavourful experience to satisfy your cravings by delivering a controlled amount of nicotine into your body to help you stop smoking.
Was £23.00
Now £19.55


Nicorette Original Gum allows you to actively control how much nicotine you use and when you use it to make the transition to quitting smoking as smooth as possible.
Was £13.50
Now £9.45

Nicorette Original Gum 2mg 210 Pieces 3 pack gives you a multipack of original flavored nicotine gums to help you overcome the urge to smoke.
Was £66.93
Now £56.89



Nicorette Cools Lozenges Mint 4mg 80 pack are a first line of defence against cigarette cravings, giving you the opportunity to take back control and resist the urge.
Was £15.49
Now £9.29


Nicorette QuickMist Mouthspray Duo is a unique form of Nicotine Replacement Therapy (NRT), an instant release mouth spray that gets to work on cravings in 60 seconds.
Was £25.00
Now £18.75


Nicorette Nasal Spray Six Pack 6 x 10ml gives you a multipack of nasal sprays that provide fast and powerful nicotine relief for heavy smokers who are trying to quit.
Our Price £116.79

Nicorette Inhalator 15mg is a clinically proven nicotine replacement aid that provides the hand-to-mouth action of a real cigarette.
Was £32.99
Now £23.09


The Nicorette Invisipatch is a discreet, easy-to-use, once-a-day solution to help you deal with the cravings and withdrawal symptoms associated with quitting smoking.
Was £12.99
Now £9.09