4 Days Remaining Until The Etihad Global Sale Ends!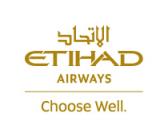 Take advantage and promote our Global Sale offering with discounts in Economy and Business Class, plus amazing flight inclusive packages for travel throughout 2016 to our most popular destinations for a LIMITED TIME ONLY! 
The discount is only valid for eligible flights when booked via etihad.com within the predetermined sales period.
Sale: The Etihad Global Sale  
Sale Dates : 23rd  – 29th February 2016
Travel Dates: 10th March 2016 – 12th December 2016
Destinations: Abu Dhabi, Singapore, Shanghai, Bangkok, Sydney, Mumbai, Seychelles – and many more.
Popular Travel Rates Include: London to Mumbai for 1,655 GBP, New York to Singapore for 1,085 USD, Abu Dhabi to New York for 4,055 AED, Mumbai to London for 136,359 INR and Paris to Melbourne for 3,649 EUR
Only 4 days remaining until the Global Sale Ends!
Sale landing page with all Terms & Conditions
If you have any questions about promoting this sale, please do not hesitate to get in touch on where someone from the team will be happy to assist proetihadaffiliates@publicisgroupe.net
The Etihad Airways Affiliate Team