£30 OFF all home and garden decor over £200 in June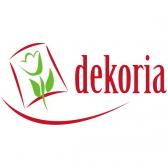 Transform your home and garden with a massive range of standard and made to measure textiles for home and garden.
From comfy seat pads and cosy cushions to blinds, curtains and sofa covers, Dekoria offers a comprehensive range of textiles and fabrics to suit all interiors. Mix & match patterns and co-ordinates are available to order online and are made to order within 5 working days.
Now, for only 30 days Dekoria is offering £30 OFF all orders over £200 with code JUNE30. Join our programme, promote this genuine value for money offer and enjoy a chunk of our sales this month in your commission.
Please contact ali@dekoria.co.uk with any questions or join our programme via Affiliate Window (programme ID 6133).
Wishing you all a busy month,
Dekoria.co.uk
Tags: 15% discount code, discount, discount code, discount codes, discounts, garden furniture, garden offer, garden textiles, home, home and garden, home and garden offer.garden, voucher, vouchers