---
3 for 2 On Selected Suncare at Chemist Direct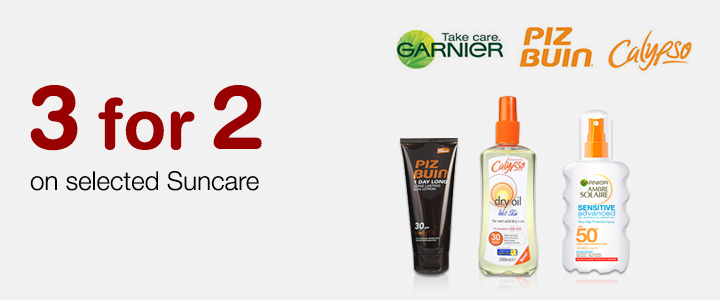 Get 3 For 2 On Selected Suncare At Chemist Direct.
Click here to find out more
Malibu Protective Lotion SPF50 offers high protection for skin that is sensitive to the sun and burns easily. Malibu Protective Lotion is enriched with Vitamin E and Pro-Vitamin B5 that restore the natural moisture levels of the skin, leaving it with a natural glow and looking healthy. This non-greasy formula is easy to apply, quickly absorbs into the skin and is completely waterproof.
Now £3.99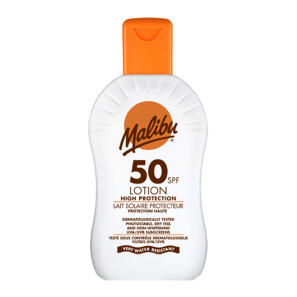 Piz Buin 1 Day Long Lotion SPF 30 has up to six hours of protection from UVA and UVB rays. The enriched formula helps to prevent premature skin ageing, and is non-sticky and non-greasy. It's sweat and water resistant, and will give your skin a hit of moisture while providing sun protection.
Now £12.99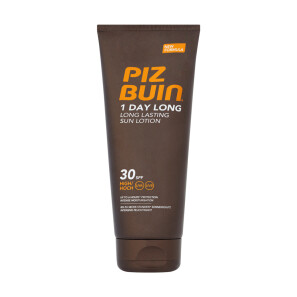 Developed with a hydrating complex enriched with pure Vitamin E, this moisturising sunscreen lotion protects the skin from dehydration and premature ageing during sun exposure. Its non-sticky, non-greasy formula easily absorbs, leaving your skin feeling nourished and protected.
Now £7.99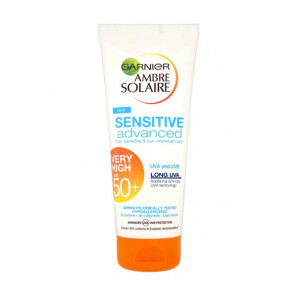 Malibu Protective Lotion SPF4 200ml - This low protection lotion absorbs quickly into the skin, keeping it moisturised whilst protecting it from harmful sun rays. Its non-greasy formula is easy to apply, dermatologically tested, and is completely waterproof.
Now £3.99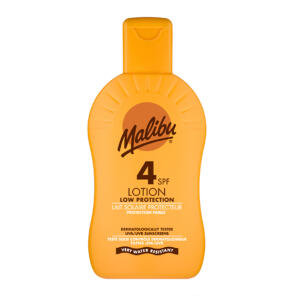 Malibu Miracle Tan Aftersun 150ml when used before sun exposure accelerates the tanning response, provides a natural colour, and helps maintain a glowing tan all year around.
Now £3.99
Malibu Aloe Vera Aftersun Gel Spray - A gentle cooling Aloe Vera formula to soothe sun exposed skin. Its easy spray-on application offers complete coverage without mess as it soothes and moisturises. Essential aftersun product.
Now £3.99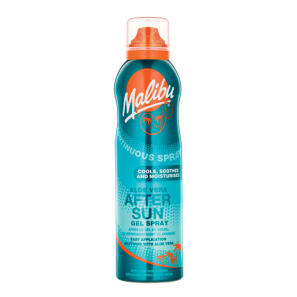 Malibu All Day Clear Protection 250ml SPF50 protects your skin all day long with a high SPF factor. The handy spray bottle is easy to apply and quick drying, leaving you to have fun in the sun!
Now £7.99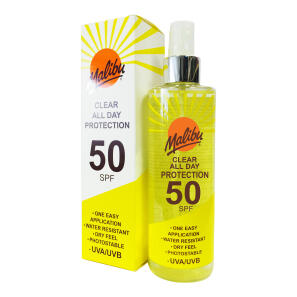 Malibu Scalp Protector SPF30 does not make hair greasy so can be sprayed onto the scalp. Its an easy to apply; quick drying clear liquid is both very water and sweat resistant making it ideal for sports. Contains UVA UVB sunscreens.
Now £3.99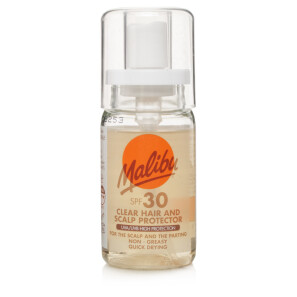 Hawaiian Tropic Protective Sun Lotion SPF50 provides high protection against sun-induced damage. This is enriched with exotic botanicals and coconut scent, and further blended with Shea butter and Vitamin C & E complex for providing satin smooth finish on your skin.
Now £7.99

Garnier Ambre Solaire Clear Protect Spray SPF30 is different to traditional sunscreens because it offers high protection in a transparent formulation and they are non-greasy and non-sticky, leaving absolutely no white marks. It it so easy to apply, quickly absorbed and designed to allow you to spray all over the body. They contain Mexoryl XL, an advanced patented UV filter, protecting against the harmful and premature ageing effects of UVA and UVB rays. They are so easy, fresh and pleasant to use.
Now £7.99