---
3 For 2 On Selected Suncare At Chemist Direct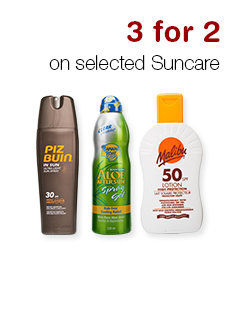 Let your skin shine with our delightful range of beauty & skincare products on offer with 3 For 2 on a selected range! Shop now.
Malibu Aftersun with Insect Repellent provides effective protection against biting insects as well as soothes sun-exposed skin.
Our Price £3.99
Banana Boat Kids Ultramist Spray Lotion SPF50 provides fast and even coverage, meaning speedy and easy all over protection from the sun.
Our Price £6.99
Garnier Ambre Solaire Aftersun Skin Soother 400ml is enriched with soothing Aloe Vera to help cool, soothe, hydrate, and calm your skin following sun exposure.
Our Price £9.99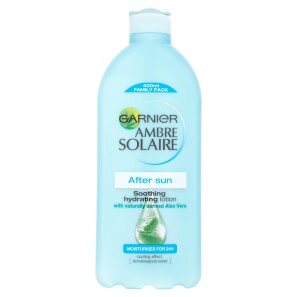 Malibu Protective Lotion SPF20 helps protect against sunburn and long-term UV-induced skin damage. It offers medium protection for skin that tans more slowly and tends to burn.
Our Price £4.99
Malibu Kids SPF50 Lotion helps protect kids against sunburn and long-term UV-induced skin damage. It offers high protection that is ideal for sun sensitive skin that burns easily.
Our Price £4.99
Garnier Ambre Solaire Sensitive Face Cream Advanced SPF50 is ideal for fair, sensitive & sun-intolerant skin, offering 50 times your skin's natural protection against sunburn.
Our Price £8.99
Banana Boat Baby Tear Free Spray Lotion SPF 50 is the only widely available brand offering a tear-free spray for babies that is specially formulated not to irritate their eyes or skin.
Our Price £5.99
Hawaiian Tropic Coconut Body Butter is an after sun body butter that replenishes your skin with moisture and gives it a luxurious coconut fragrance while you unwind and relax. It is enriched with coconut oil, Shea Butter, and avocado oil and keeps your skin moisturised and lightly scented for over 12 hours.
Our Price £5.39
Piz Buin In Sun Moisturising Lotion SPF10 provides UVA/UVB active protection from premature skin ageing. It is developed using Helioplex technology and Vitamin E to provide a photostable broad spectrum UV protection that neutralises free radicals which cause premature skin ageing.
Our Price £9.99
Nivea Lip Care Sun SPF30 Sun Protect is enriched with Vitamin E, Sun Flower Extracts and UV filters in order to provide effective protection again the sun, while keeping your lips soft, smooth and hydrated.
Our Price £3.79