3, 2, 1…spring bundles are a go!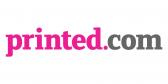 Save up to 15% on 4 new bundles this spring bank holiday only.
They say the sequel is never as good — but they never shopped the bank holiday bundles at printed.com. If you're working this bank holiday weekend, you can shop 4 exclusive new bundles with a saving of up to 15% and get the products you need most in one go.
Created with all you spring bank holiday workaholics in mind, the Exhibitionist, Blogger Bundle, Big Event and Brand Builder bundles are chock-a-block with the products you love to buy most, conveniently clustered together for easy shopping so you can enjoy more of the weekend ahead.
Meet the new bundles

The Exhibitionist
From £50

Business Cards

Leaflet & Flyers

Strut Cards

The Blogger Bundle
From £32

Business Cards

Round Stickers

Postcards

The Big Event
From £45


The Brand Builder
From £40
Business Cards

Leaflet & Flyers
Don't hang about! Shop the spring bank holiday bundles now and find your new favourite. Go shopping
Tags: business cards, leaflets, postcards, posters, round stickers, strut cards