2Gether Motor Breakdown - Programme Launch !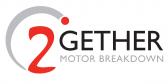 2Gether Motor Breakdown is now LIVE!  offering 18% commission on the gross sale for all of our affiliates ! - According to our research this is the most generous commission offering in our sector on this platform.
2gether Motor Breakdown rates are the lowest in the market and do offer the widest acceptance criteria and policy acceptance criteria.  With a fully manned 247 - 365 day a year in house call center we ensure the highest levels of service.  We are highly rated on review websites to enhance your buyers confidence and also have a high Defaqto rating which again re-enforces customer buying confidence.
2Gether are happy to set up any bespoke discount or voucher codes for your particular website and aim to work closely with our affiliates/
An Impressive 11% sale to click conversion rate also reflects the great value that our product can bring to your website and customer base, we encourage email campaigns and any other method to bring more customers to us and in turn are motivated to support you every step of the way.
Get in Touch , Sign up and start working with us today
Gary Haime
Managing Director
2Gether Motor Breakdown