---
25% Off Selected Neutrogena Products At Chemist Direct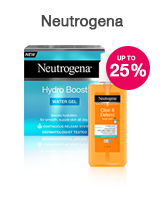 Save 25% off selected Neutrogena Products at Chemist Direct.
Offer expires - Midnight 30.09.19.
Click here to find out more. 
Help keep your skin clear and healthy with Neutrogena Clear & Defend Facial Scrub removes dead skins cells whilst cleansing your pores.
Was £4.69 Now £3.52

Clear your complexion with an oil-free moisturiser and defend against breakouts.
Was £4.45 Now £3.34

Boost your skin's natural moisture without greasy residue. Neutrogena Deep Moisture Fast Absorbing Body Lotion leaves your skin moisturised by delivering the active ingredient up to 10 layers deep into the skin.
Was £4.06 Now £3.05

Get moisture deep into the skin with a rich balm.
Was £5.08 Now £3.81

Get moisture deep into the skin with a rich lotion, which is gentle on sensitive skin. With 24 hour optimal mositure and protection.
Was £5.18 Now £3.89

Inject the hottest facial hydration care into your body care with this gel containing super hydrating Hyaluronic Acid.
Was £5.81 Now £4.36

Get touchably soft skin every time you cleanse.
Was £7.75 Now £5.81

A refreshing shot of hydration that works in 3 ways to fade away busy days from your eyes
Was £12.60 Now £9.45

Give your skin a hydration boost and protect the skin's natural barrier.
Was £12.60 Now £9.45

Hydrogel masks deliver the equivalent of one 30ml bottle of concentrated hydrating serum to your skin in just 15 minutes.
Was £3.40 Now £2.55