---
25% Off Optibac At Chemist Direct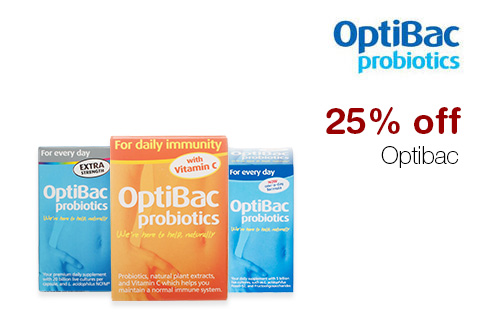 25% Off Optibac at Chemist Direct.
OptiBac Probiotics For Babies And Children (formerly known as 'For your child's health') is a natural supplement especially made for infants, children, and pregnant & breastfeeding mothers. This product contains 3 billion natural live cultures per sachet, in 3 well researched strains; Lactobacillus acidophilus Rosell-52, Bifidobacterium infantis Rosell-33, and Bifidobacterium bifidum Rosell-71. These have all been tested and shown to survive both stomach acidity and bile salts. What's more, this product has been clinically trialled especially in children.
Was £15.10
Now £11.33
Save £3.77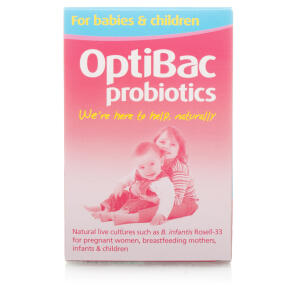 OptiBac Probiotics Saccharomyces boulardii is a supplement containing a highly researched microorganism, offering you a natural option, which can be safely taken alongside medicines or other supplements for diarrhoea, IBS or Candida.
Was £21.99
Now £16.49
Save £5.50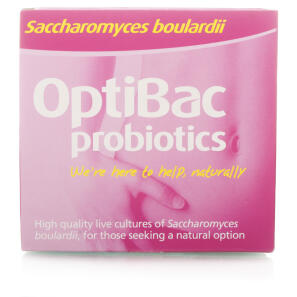 OptiBac Probiotics For Daily Immunity is a daily supplement to naturally support your immunity and energy levels. It contains a unique blend of live cultures, Vitamin C and natural plant extracts.
Was £10.20
Now £7.65
Save £2.55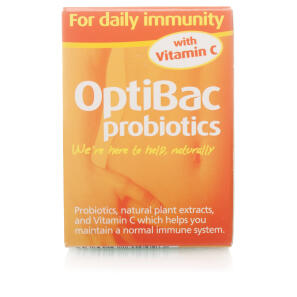 OptiBac Probiotics For Babies And Children is a natural supplement especially suited to infants, children and pregnant & breastfeeding mothers. Containins fructooligosaccharide fibres.
Was £6.20
Now £4.65
Save £1.55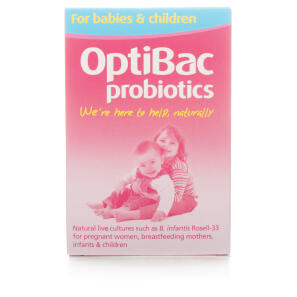 OptiBac Probiotics Bifidobacteria And Fibre is a natural supplement containing selected microorganisms and fibres to help those with constipation. It can be taken once in a day for maintaining healthy bowel movements.
Was £17.50
Now £13.13
Save £4.37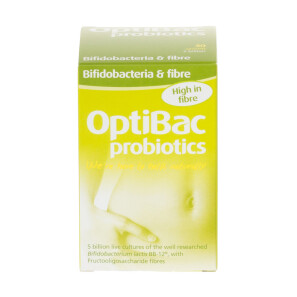 OptiBac Probiotics For Every Day is a unique and balanced formulation of 6 different probiotic strains combined with prebiotics (i.e. food for the probiotics to flourish) to provide daily maintenance for our digestive health and immune systems. Contains Lactobacillus Acidophilus.
Was £12.00
Now £9.00
Save £3.00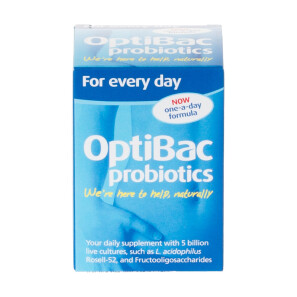 Absolutely filled to the brim with nutritious good bacteria, each tablet contains 16 billion live micro organisms of three different probiotic strains: L. acidophilus NCFM®, B. lactis HN019 and B. lactis Bl-04. Once swallowed, these bacteria will start working in your gut to increase your immune system and crowd out harmful bacteria.
Was £35.99
Now £26.99
Save £9.00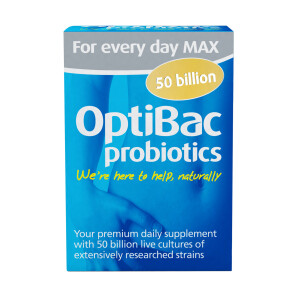 OptiBac Probiotics For Travelling Abroad is a natural supplement ideal for your travels. It contains 4 well researched strains of microorganisms which have been shown to survive at higher temperatures.
Was £9.49
Now £7.12
Save £2.37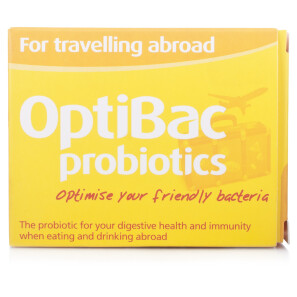 OptiBac Probiotics One Week Flat gives you advance capsules made with a formulation of unique probiotics and prebiotics. These capsules can be used for a 7 day course to help the stomach maintain a balance of healthy bacteria and support digestive health, minimising stomach bloat and promoting a comfortably flat stomach.
Was £23.49
Now £17.62
Save £5.87