25% Off Klorane Products at Chemist Direct
---
25% Off Klorane Products at Chemist Direct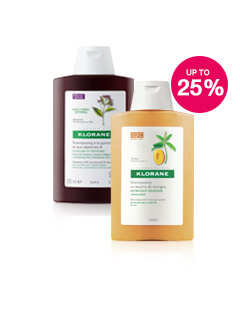 Save up to 25% off Klorane Products at Chemist Direct.
Offer expires - Midnight 30.11.19.
Click here to find out more.
Klorane Shampoo with Centaury Extract for Grey/White Hair is a shampoo that protects white or greying hair from the yellowing process. It works to restore balance and radiance to your hair by adding silver highlights, due to the cyanocentaurein in contains.
Was £7.99 Now £5.99

Cleans greasy hair in minutes without the need for water. Improves volume and lightness while allowing hair to be washed less often. For greasy/very greasy hair.
Was £7.99 Now £5.99

Klorane Camomile Shampoo for Blonde Hair is specially for blond or blond highlighted hair. It contains Camomile extracts that encourage the golden texture in your hair, bind it in, and intensify it.
Was £7.99 Now £5.99

Gentle, light and transforms the look and feel of hair. Made with French oatmilk extract, the silky conditioner is great at transforming hair, adding natural shine and calming the scalp. Suitable for all hair types.
Was £9.99 Now £7.49

Based on nettle extract which regulates the activity of sebaceous glands, natural polyaccharides, micronised powders with a very powerful oil-absorbing capacity, and cyclodextrins, this dry shampoo absorbs excess sebum and allows you to wash your hair less often with liquid shampoo in the case of greasy and very greasy hair.
Was £9.00 Now £6.75

Specially formulated for brown to dark hair, the shampoo helps your locks regain volume and bounce, leaving them looking luscious and refreshed.
Was £9.00 Now £6.75

Protect your dry hair with the Klorane Mango Butter Nourishing Conditioner, a rich and restorative formulation made up of Indian Mango.
Was £10.00 Now £7.50

Bursting with energy, the Klorane Citrus Pulp Shampoo reveals the radiance and vitality of your hair.
Was £8.00 Now £6.00

An award-winning formulation with a wealth of celebrity fans, the Klorane Oatmilk Gentle Dry Shampoo is a mild and effective way to cleanse the hair without the need for water.
Was £9.00 Now £6.75