---
25% Off Klorane Products at Chemist Direct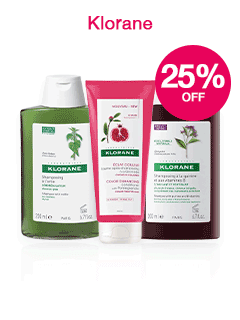 25% off Klorane Products at Chemist Direct.
Offer expires - Midnight 30.04.20.
Click here to find out more. 
Intensely moisturise and protect your hair with the Klorane Mango Butter Leave-In Cream, a deliciously scented no-rinse conditioner.
Was £12.00 Now £9.00

For a gentle way to remove your make-up look no further than the Klorane Soothing Biodegradable Make-Up Removal Wipes.
Was £7.50 Now £5.62

Intensify your blonde colour with the Klorane Camomile Blond Highlights Conditioner, a brightening and smoothing formulation enriched with Egyptian camomile.
Was £10.00 Now £7.50

Strengthen your thinning hair with the Klorane Quinine B6 Shampoo, a thickening formulation enriched with Ecuadorian quinine extract.
Was £8.00 Now £6.00

An award-winning formulation with a wealth of celebrity fans, the Klorane Oatmilk Gentle Dry Shampoo is a mild and effective way to cleanse the hair without the need for water.
Was £9.00 Now £6.75

Provide your sensitive scalp with immediate and long-lasting relief with the Klorane Peony Conditioner, a soothing and anti-irritating conditioner with peony extract.
Was £9.50 Now £7.13
Prevent colour fade with the Klorane Pomegranate Conditioner an enhancing formulation enriched with Moroccan Pomegranate.
Was £10.00 Now £7.50

Klorane Quinine Conditioning Balm For Thinning hair – packed with ingredients to help thicken and condition hair, for soft and shiny results.
Was £9.99 Now £7.49

Oatmilk Shampoo gently detangles the hair without tugging or pulling, and eliminates static electricity to ensure no 'fluffiness' or unruliness.
Was £6.00 Now £4.50