---
25% Off Healthaid At Chemist Direct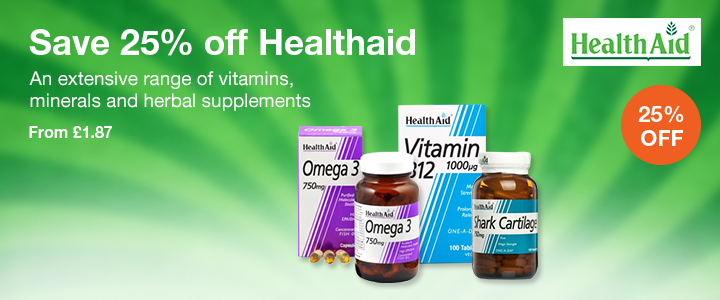 This week Chemist Direct bring you 25% off Healthaid. Please click here to see full range.
Derived from the livers of sharks populating the unpolluted seas off Greenland, shark liver oil is prized for its Glycerol content, which significantly helps to support the immune system.
Was £7.99
Now £5.99


Health Aid Interfresh. For the confidence of long lasting fresh breath, these capsules are designed to neutralise bad breath and aids digestion.
Was £5.79
Now £4.34


HealthAid Shark Cartilage 750mg Capsules contain 100% pure Shark Cartilage, with high levels of beneficial proteins and mucopolysaccharides.
Was £19.95
Now £14.96


Healthaid Calmagzinc Tablets provide calcium, magnesium zinc plus boron.
Was £7.80
Now £5.85


Health Aid Hair-Vit capsules are specifically formulated to provide vital nutrients that are required for healthy looking hair.
Was £8.54
Now £6.41


This is the only Brewer's Yeast that actually tastes good! Absolutely NO after-taste. Totally digestible. It will change your idea of what Brewer's Yeast really is.
Was £5.15
Now £3.86


HealthAid Karela Extract 1250mg Tablets are a useful supplement for the maintenance of general health and vitality.
Was £7.59
Now £5.69


Gamma Starflower Oil contain both evening primrose oil and starflower(borage) oil. The oil is helpful for relieving symptoms of PMS.
Was £16.49
Now £12.37


HealthAid Zimacal Effervescent Tablets contain Calcium, Magnesium, and Zinc which are the three most important minerals that the body needs to help gain and maintain strong bone health.
Was £3.99
Now £2.99