25% Off Fiskars Papercraft & Big Press Show Day Info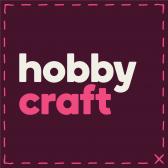 Hi,
Listen up, we've got some exciting news for you, you're invited to Hobbycraft's big Press Show day on the 13th February at Homemade London!
There will be craft demos, Easter eggs hunts, refreshments and more. Also, making a special guest appearance will be Kirstie Allsopp, launching her fantastic new range of craft kits exclusive to Hobbycraft!
If you'd like to reserve a place then please contact either myself at chris@clearnewmedia.com, or Deborah at Deborah.Luckham@hobbycraft.co.uk
Also, don't forget to get down to Hobbycraft.com where all Fiskars Papercraft is 25% off until Midnight 12th February. Hurry while stocks last!
There's also 25% Off Tattered Lace, and a great Half Price Sale to check out.
If you have any questions or promotional opportunities then please get in touch!
Thanks,
Chris & The Hobbycraft Team
chris@clearnewmedia.com
Tags: 25% off, crafts, Easter, half price sale, Invitation, Press Show