---
25% Off Eucerin At Chemist Direct

Get 25% Off Eucerin At Chemist Direct.
Click here to find out more
Eucerin DermoCapillaire Calming Urea Scalp Treatment - This intensive leave-in treatment has been formulated for use on dry and itchy scalps. It restores the scalps moisture balance whilst delivering intense hydration and relieving itchiness. Contains:
Was £10.99
Now £8.24
Save £2.75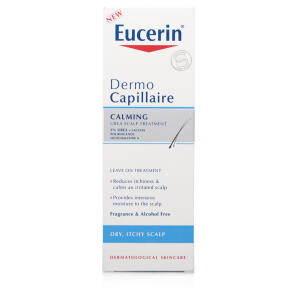 Eucerin Aquaphor Soothing Skin Balm is ideal for individuals with dry and sore skin, as it has a soothing formula which can help to support the regeneration process of the skin and provide it relief from flares and irritation. This skin balm with hydrate your troubled skin and leave it feeling softer, smoother and healthier than before - with a formula that is so gentle that it is even suitable for those with sensitive skin type.
This product does not contain any colourants, fragrances or preservatives.
Was £8.29
Now £6.22
Save £2.07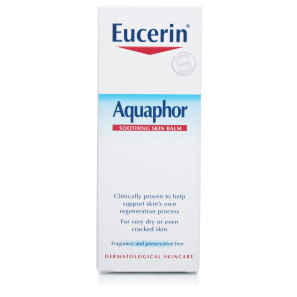 Eucerin Sun Allergy Protection Creme - Gel SPF50 keeps your skin protected while you're in the sun. It is SPF50 for high UVA and UVB protection and protection from premature skin ageing.
Was £18.99
Now £14.24
Save £4.75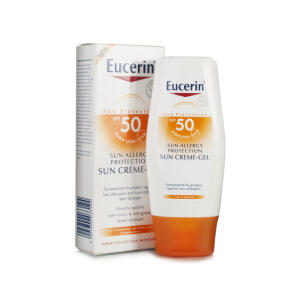 Eucerin Intensive Lotion 10% works to actively bind moisture, rehydrate the skin, and prevent itching. This product contains the active ingredient called Urea which makes Eucerin effective without a greasy consistency. Other benefits of this product are:
Was £12.49
Now £9.37
Save £3.12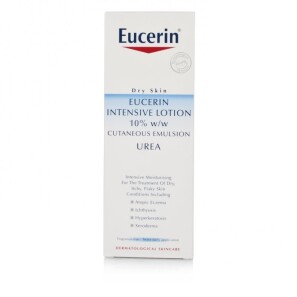 Eucerin Dry Skin Intensive 10% W/W Treatment Cream smoothes extremely dry skin and is suitable for smaller areas that require intensive care. It is a clinically proven treatment for extremely dry skin conditions, atopic eczema, dermatitis and ichthyosis. This product is fragrance-free and actively binds moisture, rehydrating the skin to prevent itching. Natural moisture-binding urea (10%) the active ingredient makes Eucerin effective without a greasy consistency. It is also High lipid content, Fragrance & Colourant free. Apply as frequently as required. Consult a physician before using on children under 3 years or with topical medications.
Was £11.99
Now £8.99
Save £3.00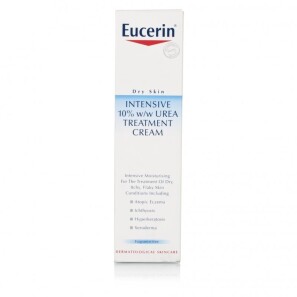 Eucerin Dry Scalp Relief Shampoo With 5% Urea effectively moisturises your scalp and protects it against further drying and scaling whilst gently cleansing, leaving the hair smooth and fresh. It is for daily shampooing of dry, itchy, allergy-prone scalps. This product soothes and relieves dry itchy scalps and replenishes the natural moisturisers, Urea and Lactate. It even provides you with gentle cleansing for volume and Shine. Even dry damaged hair becomes easy to style for adjunctive skin care, for instance in atopic eczema and psoriasis.
Was £9.99
Now £7.49
Save £2.50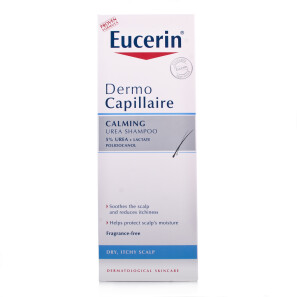 This nourishing cream reduces the appearance of age spots during the night. Exposure to UV-sunlight, hormonal influences and oxidative stress can result in an overproduction of melanin in the skin. Pigmentation spots such as dark patches, age spots and freckles develop which causes skin to become less even toned and less bright.
Was £20.99
Now £15.64
Save £5.25

Abidec Multivitamin Syrup LemonEucerin Intensive Foot Cream 10% Urea with Lactate is for daily care of very dry, rough feet. After use, skin feels pleasantly smooth again; pressure marks and calluses are reduced and you'll have immediate relief from dry skin. Suitable to use with aged skin, xerosis, psoriasis and diabetes.
Was £10.49
Now £7.87
Save £2.62

Eucerin Replenishing Face Cream actively improves the skin's ability to retain moisture and replenishes the Urea lost when your skin becomes too dry. This product contains the active ingredient Urea, a moisturiser naturally present in healthy skin. Eucerin Face Cream visibly improves the skin leaving it feeling smoother, softer and healthier. Benefits to using Eucerin Face Cream:
Was £9.99
Now £7.49
Save £2.50