---
25% off Bioglan Products at Chemist Direct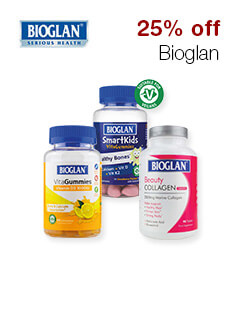 Get 25% off Bioglan Products at Chemist Direct.
Offer Expires - Midnight, 30.06.19.
Click here to find out more.
Get a hit of greens with this convenient powder, packed with minerals and vitamins.
Was £19.99
Now £10.00

Bioglan Stat-Guard combines essential nutrients that may be reduced by some cholesterol lowering medication - all in a small one-a-day capsule.
Was £14.99
Now £11.24

Bioglan Biotic Balance Ultimate Flora ' 20 Billion Live Bacteria ' 4 Strains ' Fridge Free Technology ' One-a-Day capsule Bioglan Biotic Balance Ultimate Flora are high strength capsules with 20 billion live bacteria from 4 scientifically studied strains.
Was £16.49
Now £12.37

Bioglan SmartKids Brain Formula contains essential fish oils and is especially designed to help support health brain function, to make sure your little ones get the best support possible.
Was £9.50
Now £7.13

Collagen tablets with Marine Collagen, Hyaluronic Acid, Resveratrol & Vitamin C.
Was £8.99
Now £6.74

Flavourless marine collagen powder perfect addition to all drinks & baking.5,000mg clinical dose of collagen in a 30 day supply
Was £29.99
Now £22.49

Bioglan Biotic Balance Choc Balls Milk 30's are the everyday dose of live bacteria you can include to your diet in a tasty way.
Was £9.49
Now £7.12

Research has shown the fluid cushioning the joints may decrease as people age; making our usual activities which we enjoy a bit more challenging.
Was £18.49
Now £13.87

Bioglan Smartkids Happy Tummies is a fun way to provide your child with the good bacteria they need to be happy and healthy.
Was £6.99
Now £5.24

Bioglan Biotic Balance Ultimate Flora Capsules contain high quality friendly bacteria which are found in your digestive system
Was £47.98
Now £35.99