£25 Home & Outdoor Voucher + 10% OFF Urban Jungle Collection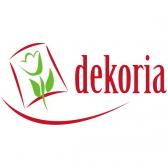 Good morning!
I hope everyone had a great Easter break? Dekoria team are back at work and our new offers for April are now LIVE! As usual we like to have a selection and we've got a £25 discount code (codes are always a favourite with our publishers!) and 10% off Urban Jungle promotion in line with the latest home decor trends. Best of all, these 2 offers may be combined. 
10% Discount on Urban Jungle textiles
Urban Jungle - bringing outdoors in with rich greens and lots of house plants - is one of the biggest trends this spring. Dekoria offers a new collections of 10 Urban Jungle fabrics across hundreds of standard and made to measure products: blinds, curtains, cushions, bedding, table linen and more - with a 10% discount on all of them throughout April.

Prices are already discounted on the website, with both standard RPP and new special offer prices displayed.
£25 Voucher (minimum spend £250 across the website)
On top of the Urban Jungle promotion we have a great value voucher: £25 saving on all orders over £250. This offer can be redeemed with discount code 25APRIL from 0:01am on 1st April until 11:59pm on 30th April 2018.
This code can be applied to all purchases over £250 from www.dekoria.co.uk - including all outdoor textiles, curtains, blinds, cushions, decarations and more - and it may be used in conjuction with other offers (where code is not required).
Please contact ali@dekoria.co.uk if you have any questions about our April offers.
Best regards,
Ali Szalinska
Dekoria Team
Tags: blinds, curtains, discount, discount code, discount codes, discounts, garden, garden furnutire cushions, garden seat pads, garden seats, garden textiles, home, home and garden, jungle, offer, offers, outdoor, outdoor furniture, outdoor furniture cushions, outdoor seat pads, outdoor textiles, outdoors, promotion, promotions, savings, special offers, urban, urban jungle, voucher, voucher code, voucher codes