---
25% Extra Flowers For FREE When You Spend Over £31.98
This week at Arena Flowers (the UK's number one ethical florist) you can enjoy an extra 25% flowers for free when you spend over £31.98 on any of our stunning bouquets, simply add the code "november" at checkout - but hurry the offer ends at midnight this Sunday 12th November.
Our beautiful Autumn arrangement is presented in a gift bag and would make a lovely birthday, thank you or 'get well soon' gesture. A classically autumnal mix featuring orange germini, red roses and lily, accentuated by vibrant carthamus and solidago.
Our Price £34.98
Our Autumn jug arrangement would make a lovely birthday, thank you or 'get well soon' gesture. A classically autumnal mix of red germini, sunflowers & a orange LA lily.
Our Price £37.98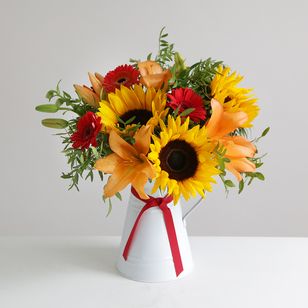 There's no mistaking that this is an Autumn bouquet! The saffron orange shades of 'cherry brandy' roses, LA lilies and fuzzy carthamus, look particularly vivid next to the sunny yellow roses and juicy red hypericum.
Our Price £39.98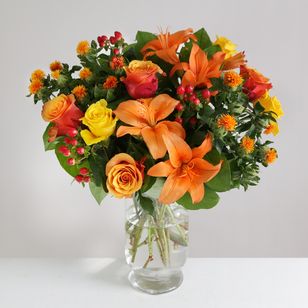 This dramatic bouquet is sure to make an impact on the recipient! 'Forest Berries' blends sumptuous red roses with purple aubergene with metallic black berried viburnum cotinus. An extremely romantic bouquet to celebrate (or begin) an autumn love story.
Our Price £54.98
This is a classic autumn bouquet which uses some of the season's finest stems and colours. This arrangement features the exquisite, golden hued Chrysanthemum, mixed with sunflowers, orange 'Cherry Brandy' roses, red hypericum, contrasting purple cotinus and sage-grey eucalyptus.
Our Price £44.99
This exquisite bouquet collects all the colours of an autumn sunset, and distributes them throughout the bouquet. Golden 'Tycoon' and peach Avalanche roses are nestled amongst brambles of metallic black berried viburnum and delicate clusters of purple astrantia star-like blooms. A beautiful autumnal offering, that will suit most occasions.
Our Price £59.99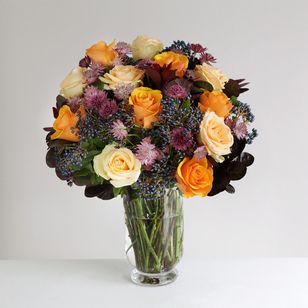 A seasonal favourite, the sunflower, is combined here with the stunning Oriental lily to create a stylish and classic bouquet. This bouquet is suitable for most occasions and will look beautiful in any interior.
Our Price £35.99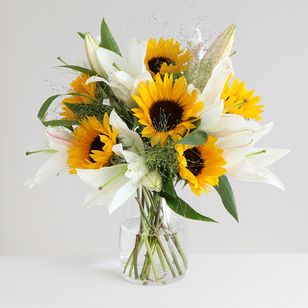 This arrangement brings together some seasonal favourites in a vivid colour palette that is evocative of an 'Indian Summer'. Chrysanthemum blooms, cerise germini and orange spray roses create a striking bouquet, that will make a joyful offering for most occasions.
Our Price £34.98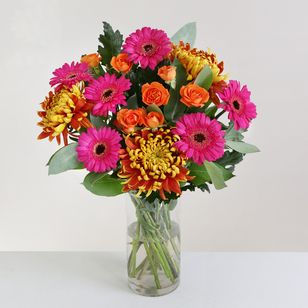 A classic mix of autumn colours and stems that will delight the recipient. The quintessential autumn bouquet.
Our Price £29.98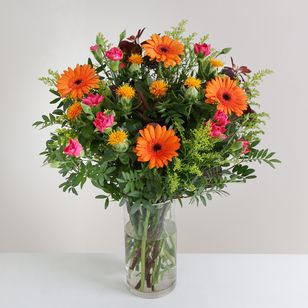 Our November bouquet features wild-looking rosehip, brassicas and pistachio which contrast beautifully against the velvety red roses and fluffy purple carnations - perfect as a seasonal treat for yourself, as a 'Thank You' gesture, or for a November birthday.
Our Price £31.98