25% Discount Code, December Giveaway & CPA Increase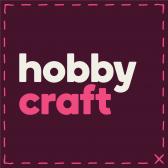 Ho, Ho, Ho Hobbycrafter,
I'm sure you are crazy with anticipation for the Black Friday/Cyber Monday madness but we wanted to remind you about the crazy 25% off everything code Hobbycraft are running this weekend (details below) as well as give you a heads up on our December giveaway where we are offering up to £500 in Hobbycraft vouchers away as prizes to our wonderful affiliate partners.
25% of everything – Using code:  2000182366
Valid until Tuesday 3rd Dec (midnight)
Everyone has the chance to win the top prizes just by sending us a screen shot of your site with the Hobbycraft promotion. Once you do this too you will also be put onto 12% commission for the rest of December, so the sooner you send us the screen shot the sooner you can earn 12% commission.
Hobbycraft £500 Giveaway plus earn 12% commission for December
Best Hobbycraft Christmas Promotion
To enter all you need to do is send us the links to your promotion of Hobbycraft on your site(s) for your chance to win. It doesn't matter if you make 0 sales or 200 sales it's about the promotion, positioning and creativeness. The winners judged by the Hobbycraft team so be as creative as possible 🙂
Winner of £250 Hobbycraft voucher
Runner Up - £100 voucher
3rd Place - £50 voucher
4 x £25 vouchers to giveaway in a prize draw for every affiliate who makes 1 sale in December (excluding the winners above)
Also if you send us your entry for the competition we will put you on 12% commission for the rest of December.
Don't forget we have Free Delivery on Orders over £30 plus 3 for 2 on all Christmas products and a host of amazing deals on sewing machines and must have craft items. Check out the site or product feed for all our deals or the hub post here for some hand selected best sellers.
Thanks and as usual get in touch if you have any good opportunities or require anything specific like creative or content.
Chris & The Hobbycraft Team
chris@clearnewmedia.com
Tags: 25% off code, affiliate competion, affiliate incentive, affiliate prize draw, Christmas 3 for 2, crafts, discount code, Hobbycraft, sale, sewing machine, voucher code