---
25% Bioglan Vitamins & Supplements At Chemist Direct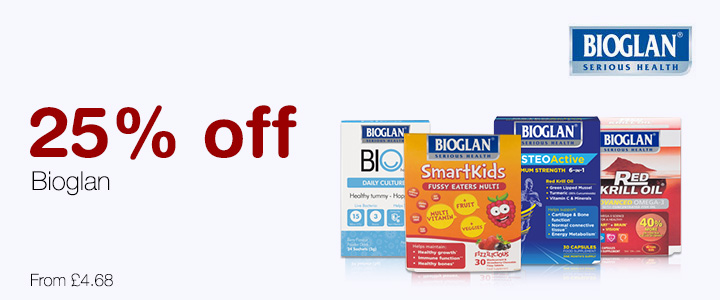 Today we bring you 25% off bioglan vitamins and supplements at Chemist Direct. Please click here to see full range.
Bioglan Red Krill Oil helps support cardiovascular health and a regular healthy cholesterol levels.
Was £11.99
Now £8.99


Bioglan VitaGummies Omega 3 Multivitamins are the delicious, convenient and easy way to enjoy essential omega-3 fatty acids to support normal vision and brain function as well as vitamin c to support immune function.
Was £8.99
Now £6.74


One-a-Day capsule Bioglan Biotic Balance Ultimate Flora are high strength capsules with 20 billion live bacteria from 4 scientifically studied strains. Plus you get all the benefits of 10 tubs of yoghurt without the calories, fat and sugar.
Was £15.99
Now £11.99


Bioglan Biotic Balance Choc Balls Milk 30's are the everyday dose of live bacteria you can include to your diet in a tasty way.
Was £7.99
Now £5.99


Bioglan Superfoods Organic Coconut Oil - An organic oil rich in MCTs and Lauric acid which can be used in cooking, and for hair and skincare.
Was £14.99
Now £11.24


High quality food supplement to support the health of bones and cartilage, while helping to boost energy metabolism.
Was £11.99
Now £8.99


Bioglan Superfoods Chia Flax Seeds - Dual nutrition from Bioglan these Chia and Flax seeds are a great source of nutrition and can be easily added to you cereal, yoghurt, smoothies and juice.
Was £14.99
Now £10.72


Bioglan Calamari Oil 500mg contains Omega 3 that helps support your brain, eye, and heart health.
Was £15.99
Now £11.99


Bioglan BioHappy Daily Cultures – Berry Flavour Probiotic Powder Drink. For a healthy tummy and a happy you.
Was £15.99
Now £11.99


Bioglan Osteo Krill are daily capsules designed to provide your body with the nutrition it needs in order to stay nice and healthy.
Was £19.99
Now £14.99