24% Off Everything For 24 Hours at Wallis!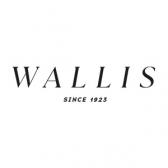 Hi Affiliates,
Ready, set, shop!
Celebrate 24 days to go with 24% off EVERYTHING for 24 hours! Tuesday 3rd June!
A number of new banners to help promote this secret event are now available! To find them in Darwin, hover over Links & Tools and click Banners & Links. The 24% off banners are saved under 'Key Promotions'.
Examples:
250x250:
125x125:
468x60:
Any questions, please get in touch at: wallis@affiliatewindow.com
Happy promoting!
The Wallis Affiliate Team