20% OFF Neatcigs SWITCH Starter Kit (WHITE)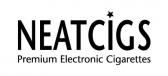 Neatcigs electronic cigarettes are offering a fabulous promotion during April 2013.
We are giving customers 20% off our SWITCH White starter kit which is a one time offer during the month of April. Our commission rate is 25% for new customers which is above the market average for this sector, with a 45 day cookie length.
For anyone wishing to push this hard there are bonuses available of £100 for the first 5 affiliates to reach £2500 worth of sales with Neatcigs in our affiliate program.
The discount code is 'SWITCHNOW'