---
20% Off MyVitamins at Chemist Direct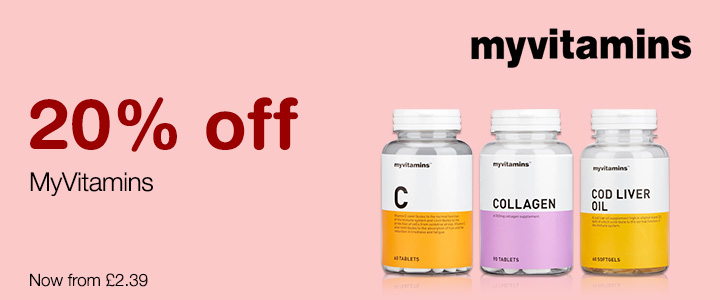 Get 20% off MyVitamins at Chemist Direct, now from only £2.49.
Please click here to check out our other great offers.
Boost your beauty with skin-loving Coconut and Collagen. Myvitamins Coconut Collagen is an expertly formulated beauty supplement, with a blend of coconut oil, collagen and Vitamin C.
Was £11.99
Now £9.59
Save £2.40

Myvitamins Activated Charcoal contains 2g of Activated Charcoal. Charcoal helps to reduce bloatedness after eating, and can detox the body.
Was £9.99
Now £7.99
Save £2.00

Baby on Board helps if you're feeling run down during pregnancy. The multi-vitamin is formulated to support the dietary needs of women during conception and pregnancy, to boost the health of both mother and baby.
Was £14.99
Now £11.99
Save £3.00

Beauty Sleep is made up of Lemon balm and chamomile, which both aid restful sleep. The tablets also contain Magnesium, which keeps you refreshed, and Zinc, which maintains healthy nails, hair and skin.
Was £11.99
Now £9.59
Save £2.40

Myvitamins Biotin is a member of the B complex vitamins, naturally found in eggs, salmon and leafy greens. Biotin supports the function of the nervous system, metabolism and improves the hair and skin.
Was £5.99
Now £4.79
Save £1.20

Catwalk Queen is blended with ingredients to supply the body with nutrients to boost healthy hair, skin and nails, to get you feeling catwalk ready.
Was £11.99
Now £9.59
Save £2.40

Myvitamins Coconut Oil is made with coconut oil, which is full of essential fatty acids. These have many health benefits, including improved condition of your hair, skin and nails.
Was £13.99
Now £11.19
Save £2.80

Myvitamins Cod Liver Oil is a high quality source of Omega 3. Omega 3 contributes to normal blood cholesterol levels and healthy cardiac function. The oil is high in Vitamin A, which is good for your vision, iron metabolism and skin maitenance.
Was £10.00
Now £8.79
Save £2.20

Myvitamins Collagen can help prevent the signs of aging. Collagen is a protein that makes up skin, bones and cartilege.
Was £8.99
Now £7.19
Save £1.80

Diet Whey Protein in Chocolate combines a blend of whey protein, milk protein concentrate and instant oats, for a carb kick, to deliver a sustained energy release througout the day.
Was £18.99
Now £15.19
Save £3.80