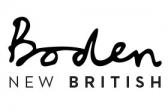 *|MC:SUBJECT|*
Boden are growing - now delivering to more European territories than ever before!
Boden are excited to announce that we can now include Scandinavia in our affiliate program - and we're looking for the best of the best to help us make it a success!
Boden are on the look out for new affiliates to join our new affiliate programme, spanning Sweden, Norway, Finland & Denmark. The benefits of splitting this from the UK programme means that we can offer you:
- Exclusive Scandinavian offers
- A better delivery proposition than the UK site offers for Scandinavian sales
- 7% CPA for voucher / cashback sites
- 10% CPA for content sites
As the Boden Scandinavian program will sit separately from the Boden UK program, we will be removing Scandinavian affiliates from the UK - so if you are part of the UK programme, please ensure that you have joined the new SCANDI programme (link further down!)
We will only be accepting affiliates that have influence in the Scandinavian markets - if you apply and your reach doesn't cover any of the four territories mentioned above, we will request that you join the UK programme. 
Sounds great! How do I sign up?
To be a part of Boden's new Scandinavian programme, please follow this link:
https://ui.awin.com/merchant-profile/6647
How does the Scandinavian program work?
Users will be indentified by IP address, and served up the relevant pop-up upon entry to the Boden UK site:
Norway: 15% off + free shipping over £50
Code: 6X9N
Finland: 15% off + free shipping over £50
Code: 8N2B
Sweden: 15% off + free shipping over £50
Code: 8Y9F
Denmark: 15% off + free shipping over £50
Code: 5G6V
Links will be provided for the offers once you have been signed up to the Boden SCANDI programme.
We're open to different opportunities and routes within the affiliate channel - from banners and newsletters right up to competitions.
If you have any questions regarding this, feel free to email boden@affiliatewindow.com
Boden's hot picks for chilly weather...
Thanks, and happy promoting!
The Boden Affiliate Team