Rebranding: Cosmos Holidays to become Monarch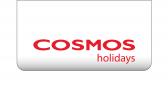 Dear Affiliates,
As you're a loyal Cosmos Holidays' affiliate, we wanted you to be among the first to know some exciting news: we're changing our name to Monarch.
We're well known for our variety of amazing holidays and hotels and our bespoke concierge service. What you might not have realised however is that we're part of the Monarch Group – a travel group with a reputation for excellent customer service – and now we're taking the same name for all our holidays.
Therefore, we're inviting you to join Monarch Holidays affiliate program, if you haven't done so already.
Default text link:
http://www.awin1.com/awclick.php?mid=3983&id=!!!id!!! 
To sign up:
http://ui.awin.com/merchant-profile/3685 
As a consequence of this rebranding, we will close the Cosmos Holidays' affiliate programme by the 7th of November: the website will then redirect to Monarch Holidays.
Should you have any question, please feel free to contact me at remi.florusse@monarch.co.uk
Many thanks,
Rémi