£15 voucher code for all home textiles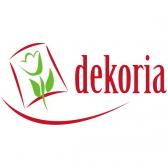 Hello Publishers,
www.dekoria.co.uk is a one stop shop for home textiles and decor for all styles, interiors, budgets and colour schemes with over 500 fabric options. Offering standard sizes or made to measure textiles, Dekoria combines high end finish with an affordable price.
In July Dekoria has a new discount code offer: £15 saving on all orders over £150 across the website. Customers can choose from thousands of products on Dekoria website and redeem their discount on all orders over £150. Discount code JULY15 remains active until 11:59pm on 31st July 2017.

Please contact Alicja Szalinska on ali@dekoria.co.uk for any questions regarding this offer or joining our programme.
All the best,
Dekoria Team
Tags: discount, discount code, discount codes, discounts, home, offer, offers, promo code, promotion, promotions, savings, voucher, voucher code, voucher codes