---
15% Off Spring Flowers Offer at Arena Flowers
Save 15% on Spring Flowers this week at Arena Flowers. Rated the UK's number one ethical online florist, you can enjoy beautiful hand tied bouquets for 15% less if you order before the 2nd April 2017.
Bursting with energetic colours, this bouquet will bring a positive and uplifting feeling to the recipient.
Our Price £29.99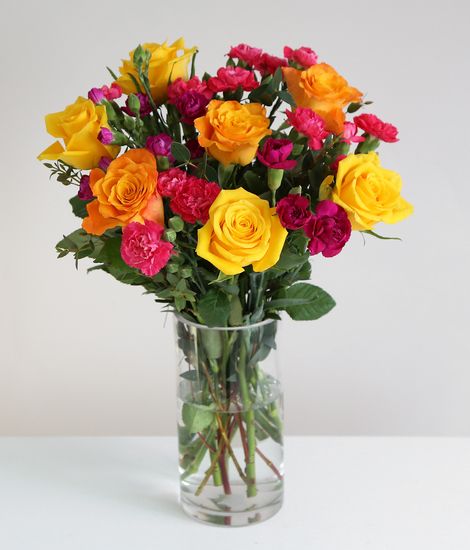 All flowers and foliage in this bouquet is sourced from Fairtrade licenced farms.
Our Price £34.98
This elegant pure white bouquet is perfect in its simplicity and the flowers in this modern composition symbolise purity and elegance.
Our Price £39.98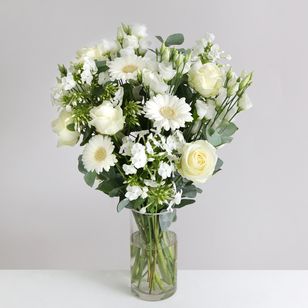 This stylish bouquet is bursting with scented white lilies and red roses and carnations and is completed with lovely misty green eucalyptus foliage.
Our Price £44.99
Beautiful pink roses and pure white freesias make a sensual, fragrant combination - perfect for demonstrating your love, appreciation and affection.
Our Price £49.98
'Purple Haze' is a soothing bouquet with a great variety of flowers. In this arrangement you will find 'Ocean Song' Roses combined with purple Freesias, Cala Lilies, Veronica, Lisianthus, Aster daisies and fragrant Eucalyptus.
Our Price £54.98
Not many can resist the beautiful Agapanthus with their trumpet shaped flowers and soothing blue colour. This is truly a noble plant that anyone would be happy to receive.
Our Price £64.99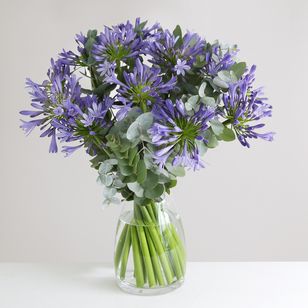 Unlike most other flowers where the white varieties smell the strongest, with freesias it is the red, pink and purple coloured flowers that are the most fragrant.
Our Price £54.98
These delicate pink tulips look extra pretty sitting amongst the mass of tanacetum daisies! A lovely choice as a birthday gift, or if you feel like treating yourself to a little spring cheer.
Our Price £29.99
Our premium roses are hard to beat. They've won countless awards and we've tried to improve them further by buying an even longer stem (which provides an even larger head).
Our Price £99.98