15% OFF Made in 7 Days Curtains, Blinds and Sofa Covers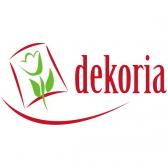 Dear Affliates,
For a limited time only Dekoria is offering 15% discount (applied at checkout) on our bestselling premium 100% cotton home textiles from the Cotton Panama collection including made to measure blinds and curtains and Ikea sofa and chair covers - until 31st January 2016. Hundreds of products to choose from to suit different interiors, colour schemes and styles on www.dekoria.co.uk!
On top of that we are also offering an expedited delivery on this range, with all Cotton Panama textiles made to order within only 7 days.
If you have any questions, please contact us on ali@dekoria.co.uk
Tags: blackout blinds, blackout curtains, blinds, chair cover, chair covers, cotton, curtains, furniture covers, furniture covers offers. curtain, furniture offers, home, home decor, home decor discount, home decor discounts, home offers, home sale, Home textiles, homeware, homeware discounts, homeware special offer, made to measure, made to measure blinds, made to measure curtains, pencil pleat curtains, roman blinds, sofa, sofa cover, sofa covers, sofas